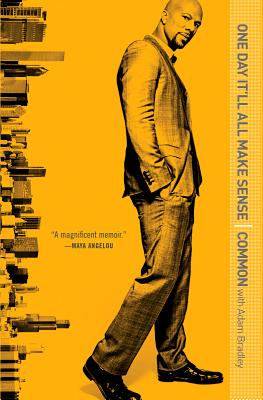 One Day It'll All Make Sense
Hardcover

* Individual store prices may vary.
Other Editions of This Title:
Paperback (9/18/2012)
Description
Common has earned a reputation in the hip hop world as a conscious artist by embracing themes of love and struggle in his songs, and by sharing his own search for knowledge with his listeners. His journey toward understanding—expressed in his music and now in his roles in film and television—is rooted in his relationship with a remarkable woman, his mother, Mahalia Ann Hines.

In One Day It'll All Make Sense, Common holds nothing back. He tells what it was like for a boy with big dreams growing up on the South Side of Chicago. He reveals how he almost quit rapping after his first album, Can I Borrow a Dollar?, sold only two thousand copies. He recounts his rise to stardom, giving a behind-the-scenes look into the recording studios, concerts, movie sets, and after-parties of a hip-hop celebrity and movie star. He reflects on his controversial invitation to perform at the White House, a story that grabbed international headlines. And he talks about the challenges of balancing fame, love, and fatherhood.

One Day It'll All Make Sense is a gripping memoir, both provocative and funny. Common shares never-before-told stories about his encounters with everyone from Tupac to Biggie, Ice Cube to Lauryn Hill, Barack Obama to Nelson Mandela. Drawing upon his own lyrics for inspiration, he invites the reader to go behind the spotlight to see him as he really is—not just as Common but as Lonnie Rashid Lynn.

Each chapter begins with a letter from Common addressed to an important person in his life—from his daughter to his close friend and collaborator Kanye West, from his former love Erykah Badu to you, the reader. Through it all, Common emerges as a man in full. Rapper. Actor. Activist. But also father, son, and friend. Common's story offers a living example of how, no matter what you've gone through, one day it'll all make sense.
Praise For One Day It'll All Make Sense…
Common distinguishes himself here as a true artist and a writer of deep talent. This book is the story of an artist in constant evolution, one who embodies the strength of the brilliant woman that raised him, the love of the Southside Chicago land that spawned him, and the raw spirit of the pro basketball player who fathered him. I've always heard that the people of Southside Chicago were special. I'm glad their native son Common shows us why. --James McBride Author of The Color of Water

"Common has written a magnificent memoir. It states that it is a book about his fascinating life. That is true. More importantly, his story is the story of all young people trying to grow up. His saga reminds the reader that love liberates and poverty cripples. Common writes beautifully, like the poet he is."

–Maya Angelou

"Common is a 360-degree human being, and I don't say that about many people. He never needed to "pimp the hood" to achieve his deserved success. He is an eloquent and honorable role model and his memoir is a perfect example of his depth as a human being. In addition, reading about his childhood and upbringing in Chicago is really a trip - because we went through so many of the same experiences albeit decades apart. Chicago is still the roughest and primary "Institution of Hard Knocks," and if you can make it there, you can truly make it anywhere!" –Quincy Jones

"Raw in its honesty, profound in its insights, One Day It'll All Make Sense establishes Common as a voice that is as compelling on the page as it is on a record. This is not simply the story of an individual artist but a crucial page the history of hip hop itself." –Jelani Cobb, author of The Substance of Hope

"A powerful memoir that speaks to all audiences." –Queen Latifah

"A thoughtful and beautiful book that tells us much more about Common... His mother's perspective takes this to another level." –Touré, author of Who's Afraid of Post-Blackness
Atria Books, 9781451625875, 320pp.
Publication Date: September 13, 2011
About the Author
Common is an Oscar, Golden Globe, Emmy, and Grammy Award–winning music artist. He is an actor and producer and has appeared in numerous critically acclaimed films as well as hit TV series. Common is the author of
One Day It'll All Make Sense
, which was a
New York Times
bestseller. He was raised in Chicago and currently resides in Los Angeles and Brooklyn.
Adam Bradley
is a scholar of African-American literature and a writer on black popular culture. He is the author of
Book of Rhymes: The Poetics of Hip Hop
and the co-editor of Ralph Ellison's
Three Days Before the Shooting...
,
and
Yale Anthology of Rap
. Adam is an associate professor of Literature at
the University of Colorado, Boulder
and lives in Boulder with his wife.
or
Not Currently Available for Direct Purchase