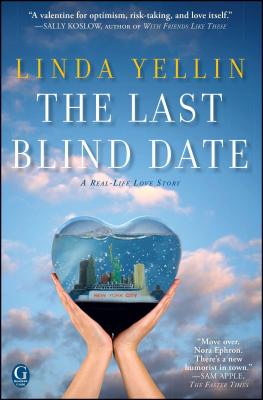 The Last Blind Date
Paperback

* Individual store prices may vary.
Description
A fun, charming memoir about a woman who falls in love, packs her bags, and starts over in the city that eats its young.
Praise For The Last Blind Date…
"Yellin's story is not only a delight to read but an inspiring example of the good that can come from taking risks, even when it's uncomfortable or scary." --Publishers Weekly



"Breezy, fun, and worldly-wise, this memoir about love the second time around will put a never-ending smile on your face."
—Mindy Greenstein, author of The House on Crash Corner



"Move over, Nora Ephron. There's a new humorist in town."
—Sam Apple, author of The Faster Times



"A valentine for optimism, risk-taking, and love itself. With self-deprecating charm, Yellin takes her reader on a journey from Chicago to Manhattan, eviscerating New York City folkways with gentle yet biting wit."
—Sally Koslow, New York Times bestselling author of With Friends Like These



"Wit, energy, and enthusiasm . . . the kind of book that makes you glad that writers write."
—Sharyn Wolf, author of Love Shrinks: A Memoir of a Marriage Counselor's Divorce



"Linda is Tina Fey at the office, Erma Bombeck with her stepkids, and Nora Ephron everywhere but the kitchen. I love this book. I couldn't stop reading."
—Nina DiSesa, author of Seducing the Boys Club




"The funny and touching truth about how a woman gets to happily-ever-after, a la Anita Loos and Dorothy Parker."
—Susan Spano, columnist and co-author of Women on Divorce



"Filled with lots of girl-talk, this memoir will appeal to readers who can't get enough of the beginning, middle and sweet endings of love stories." --Kirkus Reviews




"Compelling, funny, and fraught with human foibles, The Last Blind Date has you rooting for Yellin as you eagerly turn the pages."
--- Laurie Graff, author You Have to Kiss a Lot of Frogs



"The wit and verve of Susan Isaacs."
—Publishers Weekly on Such a Lovely Couple
Gallery Books, 9781451625899, 336pp.
Publication Date: October 4, 2011