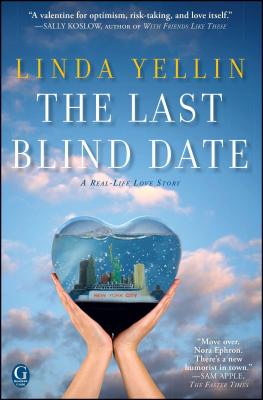 The Last Blind Date
Paperback

* Individual store prices may vary.
Description
A fun, charming memoir about a woman who falls in love, packs her bags, and starts over in the city that eats its young.
Praise For The Last Blind Date…
"Yellin's story is not only a delight to read but an inspiring example of the good that can come from taking risks, even when it's uncomfortable or scary."
— Publishers Weekly on The Last Blind Date

"A valentine for optimism, risk-taking, and love itself. With self-deprecating charm, Yellin takes her reader on a journey from Chicago to Manhattan, eviscerating New York City folkways with gentle yet biting wit."
— Sally Koslow, author of The Widow Waltz, on The Last Blind Date

"Filled with lots of girl-talk, this memoir will appeal to readers who can't get enough of the beginning, middle and sweet endings of love stories."
— Kirkus Reviews on The Last Blind Date

"This is why Linda Yellin's The Last Blind Date is the perfect story of falling in love: it doesn't exist in the fairy tale realm. It happened here - well, in New York City. What you'll take from this charming, breezy memoir of a long-distance love affair is that romance in reality is all the more rewarding for the practical ups and downs that come along for the ride…For Linda, love arrived with Randy, her almost-divorced, father of two,who lives in the entirely wrong city. These kind of mundane obstacles never appear in romance novels, but reading about Linda and Randy working through long-distance problems, blending a family, and breaking down the walls around her scarred heart will give you a renewed sense of joy. Fairy tales do come true."
— BN Romance Blog Heart-to-Heart on The Last Blind Date

"Hilarious. Unexpected. Knife-in-the-Side Sharp. Somewhere, surely, Nora Ephron is smiling."
— Jennie Fields, author of The Age of Desire, on What Nora Knew

"As romantic and fun as When Harry Met Sally or Sleepless in Seattle, Linda Yellin's hilarious, heartfelt novel is an urban fairy tale of sophisticated humor and touching charm."
— Amanda Robb, magazine journalist for O, Vogue, and Elle, on What Nora Knew

"Reading Linda Yellin is like spending much-needed time with your funniest, dearest friend."
— Mia March, author of Finding Colin Firth, on What Nora Knew

"Filled with a delightful cast of characters, What Nora Knew is a smart, laugh-out-loud love story with a sparkling heroine. I loved it!"
— Anita Hughes, author of Lake Como, on What Nora Knew

"With What Nora Knew, Linda Yellin has written an irresistibly funny, authentic novel about the two-steps-forward-one-step-back pursuit of life, love and career in New York City. She writes for all of us with Molly Hallberg's laugh-out-loud, poignant inability to accept she's met her equal, while everyone around her takes the plunge. Yellin is a Nora Ephron inspired humorist with a voice of her own."
— Kathryn Leigh Scott, author of Down and Out in Beverly Heels, on What Nora Knew

"I laughed my way through Linda Yellin's What Nora Knew—when I wasn't nodding in recognition. Witty, wise, insightful,and altogether charming."
— Emily Listfield, author Best Intentions, on What Nora Knew

"Linda Yellin's lively story sparkles and dances off the page."
— Tracey Jackson, author Between a Rock and a Hard Place, on What Nora Knew

"An engaging romp through one woman's quest to find love and happiness in Manhattan, Linda Yellin's novel is by turns touching and funny, and her heroine has charm and chutzpah to spare."
— Christine Haag, author of Come to the Edge, on What Nora Knew

"Warm and funny and honest."
— Ann Hood, author of The Red Thread, on Such a Lovely Couple

"A writer with the wit and verve of Susan Isaacs."
— Publishers Weekly on Such a Lovely Couple

"Linda Yellin has moved into Wendy Wasserstein territory and made it her own."
— Elizabeth Villars, author of Lipstick on His Collar, on Such a Lovely Couple

"Such a rare, ringing clarity of tone and vision...the emotions, the dialogue, the scenery are just dead on...I couldn't put it down."
— Susan Kenney, author of In Another Country, on Such a Lovely Couple
Gallery Books, 9781451625899, 336pp.
Publication Date: October 4, 2011
About the Author
Linda Yellin writes humor pieces for More magazine. She wrote numerous short stories for Redbook magazine back when they still published short stories and was a regular guest on SiriusXM Radio's women's talk show, "Broadminded." Her writing career began in advertising where she wrote headlines for shampoos, hamburgers, and cheese. Get the scoop at LindaYellin.com.