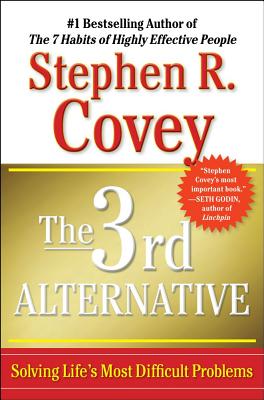 The 3rd Alternative
Solving Life's Most Difficult Problems
Hardcover

* Individual store prices may vary.
Other Editions of This Title:
Digital Audiobook (10/3/2011)
Paperback (4/24/2012)
MP3 CD, Abridged (4/1/2012)
Compact Disc (4/1/2012)
Compact Disc, Abridged (4/1/2012)
MP3 CD (5/27/2014)
Compact Disc (10/30/2015)
Hardcover (2/25/2012)
Hardcover (10/1/2011)
Description
From the multimillion-copy bestselling author of The 7 Habits of Highly Effective People, hailed as the #1 Most Influential Business Book of the Twentieth Century, The 3rd Alternative introduces a breakthrough approach to conflict resolution and creative problem solving.

There are many methods of "conflict resolution," but most involve compromise, a low-level accommodation that stops the fight without breaking through to new and innovative results. The 3rd Alternative introduces a breakthrough approach to conflict resolution and creative problem solving, transcending traditional solutions to conflict by forging a path toward a third option. A third alternative moves beyond your way or my way to a higher and better way—one that allows both parties to emerge from debate or even heated conflict in a far better place than either had envisioned. With the third alternative, nobody has to give up anything, and everyone wins.

Through key examples and stories from his work as a consultant, Covey demonstrates the power of 3rd Alternative thinking. His wide-ranging examples include a Canadian metropolitan police force that transformed a crime-plagued community; a judge who brought a quick, peaceful end to one of the biggest environmental lawsuits in American history without setting foot in a courtroom; the principal of a high school for children of migrant workers who raised their graduation rate from 30 percent to 90 percent; a handful of little-known people who are quietly finding new ways to bring peace to the Middle East; and many others. These various groups and individuals offer living examples of how to create new and better results instead of escalating conflict, as well as how to build strong relationships based on an attitude of winning together.

Beyond conflict and compromise, The 3rd Alternative unveils a radical, creative new way of thinking.
Praise For The 3rd Alternative: Solving Life's Most Difficult Problems…
"Even in our conflicted times, now and again we catch a glimpse of the better thing. Dr. Covey shows us how to seek that better thing and transcend our deepest disputes."
—Archbishop Desmond Tutu

"You can 'get' Stephen Covey's message in five pages—or less. But I dearly hope you will carefully read and apply every page. Stephen has given us a precious gift—but, like most profound ideas, it is the daily, conscious practice that can or will transform your life."--Tom Peters, author of The Brand You 50 and Re-imagine: Business Excellence in a Disruptive Age

"In The 3rd Alternative, Dr. Covey inspires us to think differently about solving problems than we ever have before. We must set aside our differences, including our boundaries, languages, economics, politics and cultures and work hand in hand together to create solutions which are greater than the problems we now face."
--Muhammad Yunus, Nobel Peace Prize winner 2006

"In The 3rd Alternative, Stephen Covey urges us to chart a course beyond the suboptimal solutions to all our crises – beyond left and right, and beyond the many false choices in front of us. The 3rd Alternative is a wise and welcome echo of Einstein's warning that the problems we're facing today cannot be solved by the same level of thinking that created them."
--Arianna Huffington, president and editor-in-chief of the AOL Huffington Post Media Group

"Once again, Stephen Covey has nailed it. In this latest book, he offers meaningful advice for navigating life's toughest challenges. It's not about 'my way,' or 'your way,' but seeking out 'our way.'"
--J.W. Marriott, Jr., Chairman & CEO of Marriott International, Inc.

"In this book, Covey reaches out way beyond his familiar domain, to the Universe, and has come up with a social vaccine capable of addressing if not resolving the existential agonies and angst that we all face, as individuals and to the organizations and societies that we live and work in. In this Olympiad vault, Covey has written his most ambitious and hopeful book, in my own view, a masterpiece to benefit all of us doing our best to live in peace and justice in this messy world."
--Warren Bennis, Distinguished Professor of Management, University of Southern California and author of the memoir, Still Surprised

"A most compelling approach for addressing the most challenging issues of the day. It is an inarguable formula for success in the corporate world and beyond."
--Douglas R. Conant, retired CEO, Campbell Soup Company, and New York Times bestselling author

"Dr. Covey has done it again. The 3rd Alternative is not only powerful reading—it answers some of life's most challenging questions. A must-read for all future leaders."
--Jon M. Huntsman, Sr.
Free Press, 9781451626261, 480pp.
Publication Date: October 4, 2011
About the Author
Recognized as one of Time magazine's twenty-five most influential Americans, Stephen R. Covey (1932–2012) was an internationally respected leadership authority, family expert, teacher, organizational consultant, and author. His books have sold more than twenty-five million copies in thirty-eight languages, and The 7 Habits of Highly Effective People was named the #1 Most Influential Business Book of the Twentieth Century. After receiving an MBA from Harvard and a doctorate degree from Brigham Young University, he became the cofounder and vice chairman of FranklinCovey, a leading global training firm.
or
Not Currently Available for Direct Purchase