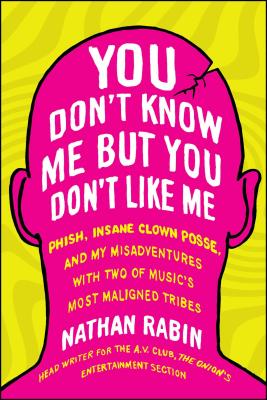 You Don't Know Me but You Don't Like Me
Phish, Insane Clown Posse, and My Misadventures with Two of Music's Most Maligned Tribes
Paperback

* Individual store prices may vary.
Description
One of Rolling Stone's 20 Best Music Books of 2013

When memoirist and head writer for The A.V. Club Nathan Rabin first set out to write about obsessed music fans, he had no idea the journey would take him to the deepest recesses of both the pop culture universe and his own mind. For two very curious years, Rabin, who Mindy Kaling called "smart and funny" in The New Yorker, hit the road with two of music's most well-established fanbases: Phish's hippie fans and Insane Clown Posse's notorious "Juggalos." Musically or style-wise, these two groups could not be more different from each other, and Rabin, admittedly, was a cynic about both bands. But once he gets deep below the surface, past the caricatures and into the essence of their collective cultures, he discovers that both groups have tapped into the human need for community. Rabin also grapples with his own mental well-being—he discovers that he is bipolar—and his journey is both a prism for cultural analysis and a deeply personal exploration, equal parts humor and heart.
Praise For You Don't Know Me but You Don't Like Me: Phish, Insane Clown Posse, and My Misadventures with Two of Music's Most Maligned Tribes…
"A universal [story] about the ways we connect with the music we adore. By making it personal, and by profiling such a broad spectrum of fans, Rabin puts a human face on what would be caricatures."
— Publishers Weekly

"An extremely funny and engaging book about how fandom provides people with surrogate families and a way to escape day-to-day banality."
— Rolling Stone (four-star review)

"[A] deftly told tale."
— The Huffington Post

"I love this book. Not only is it funny and well written, but it is, dare I say… beautiful. People could learn a thing or two from Nathan. Instead of judging new things and keeping them at bay because they're 'scary' or 'shitty,' he embraces them and walks away with rich life experiences. So, give yourself a rich life experience of your own and read this book. Then, when you're finished, go and see a Phish show. What do you have to lose? Nothing. What do you have to gain? – maybe they'll play a thirty minute "Tweezer" and you'll get to see god."
— Harris Wittels

"Nakedly honest."
— The Capital Times

"Awesomely funny…. I've rarely read something that was so good at understanding and building empathy for such an unlikely group."
— David Plotz, Slate Staff Pick, Best Books of 2013

"[Insane Clown Posse] may forever remain the butt of jokes, but there's a lot of community-building going on here as revealed in the acclaimed book You Don't Know Me But You Don't Like Me."
— Huffington Post
Scribner, 9781451626889, 272pp.
Publication Date: June 11, 2013
About the Author
Nathan Rabin is a staff writer for The Dissolve, a new film website from the popular music website Pitchfork. Previously, he was the head writer for The A.V. Club, the entertainment guide of The Onion, a position he held until recently since he was a college student at University of Wisconsin at Madison in 1997. Rabin is also the author of a memoir, The Big Rewind, and an essay collection based on one of his columns, My Year of Flops. He most recently collaborated with pop parodist "weird Al" Yankovic on a coffee table book titled Weird Al: The Book. Rabin's writing has also appeared in The Wall Street Journal, Spin, The Huffington Post, The Boston Globe, Nerve, and Modern Humorist. He lives in Chicago with his wife.
or
Not Currently Available for Direct Purchase