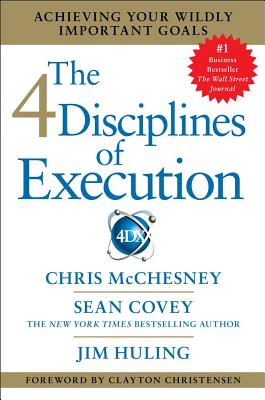 The 4 Disciplines of Execution (Hardcover)
Achieving Your Wildly Important Goals
Free Press, 9781451627053, 352pp.
Publication Date: April 24, 2012
Other Editions of This Title:
Digital Audiobook (4/23/2012)
Paperback (4/12/2016)
MP3 CD (4/15/2014)
Compact Disc (4/12/2016)
MP3 CD (11/27/2012)
MP3 CD (11/27/2012)
Compact Disc (11/27/2012)
Compact Disc (11/27/2012)
* Individual store prices may vary.
Description
#1 BUSINESS BESTSELLER (The Wall Street Journal) * HALF A MILLION COPIES SOLD

"The 4 Disciplines of Execution is a book every leader should read." —Clayton Christensen, Professor, Harvard Business School, and author of The Innovator's Dilemma

For fans of Good to Great and The First 90 Days, The Four Disciplines of Execution is the foundational text for creating lasting organizational change.

Do you remember the last major initiative you watched die in your organization? Did it go down with a loud crash? Or was it slowly and quietly suffocated by other competing priorities? By the time it finally disappeared, it's likely no one even noticed. What happened?

Often, the answer is that the "whirlwind" of urgent activity required to keep things running day-to-day devoured all the time and energy you needed to invest in executing your strategy for tomorrow. The 4 Disciplines of Execution can change that forever.

The 4 Disciplines of Execution (4DX) is a simple, repeatable, and proven formula for executing your most important strategic priorities in the midst of the whirlwind. By following the 4 Disciplines—Focus on the Wildly Important; Act on Lead Measures; Keep a Compelling Scoreboard; Create a Cadence of Accountability—leaders can produce breakthrough results, even when executing the strategy requires a significant change in behavior from their teams.

4DX is not theory. It is a proven set of practices that have been tested and refined by hundreds of organizations and thousands of teams over many years. When a company or an individual adheres to these disciplines, they achieve superb results, regardless of the goal. 4DX represents a new way to think and work that is essential to thriving in today's competitive climate. The 4 Disciplines of Execution is one book that no business leader can afford to miss.
About the Author
Chris McChesney is the Global Practice Leader of Execution for FranklinCovey and one of the primary developers of The 4 Disciplines of Execution. For more than a decade, he has led FranklinCovey's ongoing design and development of these principles, as well as the consulting organization that has achieved extraordinary growth in many countries around the globe and impacted hundreds of organizations.

Sean Covey is Executive Vice President of Global Solutions and Partnerships for FranklinCovey. He is a New York Times bestselling author and has written several books, including The 6 Most Important Decisions You'll Ever Make, The 7 Habits of Happy Kids, The 4 Disciplines of Execution, and The 7 Habits of Highly Effective Teens, which has been translated into twenty languages and sold over five million copies worldwide.

Jim Huling is the Managing Consultant for FranklinCovey's The 4 Disciplines of Execution. Jim's career spans more than three decades of corporate leadership, from Fortune 500 organizations to privately held companies, including serving as CEO of a company recognized as one of the "25 Best Companies to Work for in America." Prior to joining FranklinCovey, Jim was one of the first leaders to adopt The 4 Disciplines of Execution.
Praise For The 4 Disciplines of Execution: Achieving Your Wildly Important Goals…
"The 4 Disciplines of Execution offers more than theories for making strategic organizational change. The authors explain not only the 'what' but also 'how' effective execution is achieved. They share numerous examples of companies that have done just that, not once, but over and over again. This is a book that every leader should read!"
—Clayton Christensen, Professor, Harvard Business School, and author of The Innovator's Dilemma

"What Six Sigma and Lean are to manufacturing, The 4 Disciplines of Execution is to executing your strategy. 4DX is a practical methodology that can solve every leader's #1 challenge: execution."
— Ram Charan

"Many of the foundational values of Marriott are embodied within The 4 Disciplines of Execution. By utilizing this process inside our organization, our leaders and teams have been able to set and achieve extraordinary goals, which have had a significant impact on making 'Our Guests' Experience' truly remarkable. Any organization can create these same kinds of breakthrough results if they apply the principles and processes taught in this book!"
— J.W. Marriott, Jr

"The State of Georgia had unprecedented success as a result of implementing the principles outlined in The 4 Disciplines of Execution. We certified hundreds of leaders to take the disciplines to every department, achieving unprecedented results in customer service, quality improvement, and cost reduction. These execution principles are a must for any government agency that is seeking to be world class."
— The Honorable Sonny Perdue

"Customers are loyal to a brand when they can trust it to deliver a consistently outstanding experience. This requires the commitment of everyone up and down the organization to innovate new ways to economically delight customers, so they become promoters. The 4 Disciplines of Execution offers a proven process for engaging the hearts and minds of every employee toward this vital goal. I highly recommend this book to any leader committed to making customer loyalty a mission-critical goal."
— Fred Reichheld

"In a business world where the essence of leadership centers around strategy, this book highlights the true requirements of any organization to focus on the principles of execution. At The Ritz-Carlton, I believe the only way to strengthen operational excellence is through flawless execution. The application of Focus, Leverage, Engagement and Accountability, as discussed in The 4 Disciplines of Execution, are key to our success and make exceptional reading for today's business leaders."
— Herve Humler

"The 4 Disciplines of Execution book contains principles and processes that do indeed work. I do believe that 'execution excellence' is the ultimate competitive differential of this decade. As we have partnered with FranklinCovey to apply the methodology and process globally throughout our organization, it has not only had a significant impact on our organization's business results, but it has been transformational for me as a leader, both personally and professionally."
— Jeff Simmons

"We believe that The 4 Disciplines of Execution are the keys to growth and success. For years we have struggled with creating focus for our people. We have used priority sheets, standards of performance measures, and others. We have fallen in love with the concepts of "whirlwinds and WIG!" When you read this book you will never look at work, or life, the same!"
— Danny Wegman

"The 4 Disciplines' practical guidance on goal-setting and measurement resonates with groups of all levels in our organization. Many teams have applied this intuitive approach to build engagement and increase execution and accountability."
— Dave Dillon

"The 4 Disciplines of Execution helps leaders, teams, and front line employees to narrow their focus and spend their time executing those things that will bring the highest return for their organization and customers. This book is a must read for any leader who wants to achieve that which is extraordinary in their company!"
— Diana Thomas
Book Videos