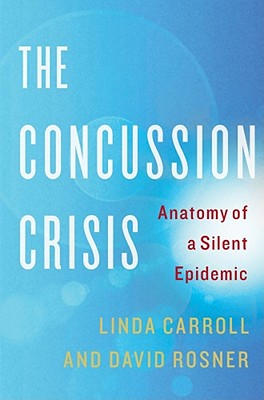 The Concussion Crisis
Anatomy of a Silent Epidemic
Hardcover

* Individual store prices may vary.
Other Editions of This Title:
Digital Audiobook (9/19/2011)
Paperback (2/21/2012)
MP3 CD (9/20/2011)
Compact Disc (9/20/2011)
MP3 CD (9/20/2011)
Compact Disc (9/20/2011)
Compact Disc (9/20/2011)
Description
FOR FAR TOO LONG, the menace of concussions has been hidden in plain sight. On playing fields across America, lives are being derailed by seemingly innocuous jolts to the head. From the peewees to the pros, concussions are reaching epidemic proportions. This book brings that hidden epidemic and its consequences out of the shadows.

As frightening as the numbers are—estimates of sports-related concussions range from 1.6 million to 3.8 million annually in the United States—they can't begin to explain the profound impact of a hidden health problem that can strike any of us. It is becoming increasingly clear that concussions, like severe head traumas, can rob us of our memory, our mental abilities, our very sense of self. Because the damage caused by a concussion is rarely visible to the naked eye or even on a brain scan, no one knows how many millions might be living lives devastated by an invisible injury too often shrugged off as "just a bump on the head."

This book puts a human face on a huge public health crisis. Through narratives that chronicle the poignant experiences of real people struggling with this invisible and often unrecognized brain injury, Linda Carroll and David Rosner bring home its potentially devastating consequences. Among those you will meet are a high school football player whose college dreams were derailed by a series of undiagnosed concussions, a hard-driving soccer star whose own struggles with concussions pushed her to crusade for safety reform as a coach and soccer mom, and an economist who lost her career because of lingering concussion symptoms from a fender bender.

The Concussion Crisis weaves these human dramas with compelling stories of scientists and doctors who are unraveling the mysteries of how an invisible injury can wreak such havoc. It takes readers into the top labs, where scientists are teasing out what goes wrong in the brain after a jolt to the head, and into the nation's leading concussion clinic, where patients get cutting-edge management and treatment. Carroll and Rosner analyze the cultural factors that allowed this burgeoning epidemic to fester unseen and untreated. They chronicle the growing public awareness sparked by the premature retirements of superstars like NFL quarterbacks Troy Aikman and Steve Young. And they argue for an immediate change in a macho culture that minimizes the dangers inherent in repeated jolts to the head.

The Concussion Crisis sounds an urgent wake-up call to parents, coaches, trainers, doctors, and the athletes themselves. The book will stand as the definitive exploration of this heretofore-silent health crisis. It should be required reading for every parent with a child playing sports—in fact, by everyone who has ever suffered a hard bump on the head.
Praise For The Concussion Crisis: Anatomy of a Silent Epidemic…
"The parents of teenage athletes should take a careful look at this book."

—Abigail Zuger, M.D., The New York Times

"Thoughtfully passionate and comprehensive…. Quite a devastating testament. It lays it all out and forces us to ponder how a civilized people can blithely accept an entertainment that does such damage to young men's minds."

—Frank Deford, The Washington Post

"The Concussion Crisis should be required reading for players at all levels, parents, and coaches…. [One of] the 10 best [sports] books of the year."

—The Boston Globe

"In The Concussion Crisis, health writer Carroll and sportswriter Rosner team up to offer a jolt on the head—intellectual only—to those who've tended to dismiss blows to the noggin as innocuous…. The book is a clarion call to take full measure of the broken brains and bodies among us."

—The Globe and Mail of Canada

"Important…. A book everyone involved with football or concerned about the sport must read."

—Gregg Easterbrook, ESPN.com

"A very hot topic…. This noteworthy book issues a challenge to the 'macho play-through-the-pain' sports culture and urges a rethinking of safety versus spectacle."

—Publishers Weekly

"A powerful call for action on the part of parents, coaches, and older athletes…. A good primer for parents whose kids play contact sports such as football."

—Booklist

"The Concussion Crisis puts a human face on traumatic brain injury through real-life stories of athletes and soldiers. The authors define the problem, explain the science, and accentuate the need for prevention. This informative book sounds a much-needed alarm for medical intervention, continued research, and a reassessment of how we play sports."

—Michael J. Stuart, M.D., co-director of the Mayo Clinic's Sports Medicine Center and chief medical officer of USA Hockey

"There is no injury I worry about as a coach more than concussions, and this book shows why. It's a must-read for athletes and their parents."
—Anson Dorrance, coach of the USA's first World Cup women's soccer champions and of UNC's 20-time NCAA champions

"Carroll and Rosner tell some utterly heartbreaking stories, but their book, ultimately, offers hope by giving readers the information and resources they need to confront a public health crisis. They show us that a concussion does not have to be a life-altering event, but it can be if it is not properly recognized, respected, and treated."

—Michael Sokolove, author of Warrior Girls: Protecting Our Daughters Against the Injury Epidemic in Women's Sports
Simon & Schuster, 9781451627220, 336pp.
Publication Date: September 13, 2011
About the Author
Throughout her two decades as a nationally respected health and fitness writer, Linda Carroll has mastered the art of making complex subjects entertaining and accessible for the average reader. She has written for a wide range of prominent publications, including The New York Times, SmartMoney, Health, and MSNBC.com. Currently, she is a contract writer for NBC News, covering health and business. An accomplished equestrian, Carroll brings more than thirty years of experience in breeding, training, and showing horses. For the past two decades, she has owned and operated Fiery Run Farm, where she has hands-on control of breeding and training her twelve Arabian and Oldenburg sport horses. For more information, visit the farm's website at FieryRunFarm.com.

For three decades, David Rosner has worked as a sportswriter at major metro newspapers and national magazines. As an award-winning staff writer at Newsday in New York, he spent twelve years covering the full gamut of pro sports—including horse racing. He has covered racing since the spring of '77 when his first bylined stories as a cub reporter chronicled the harrowing Belmont spill that hospitalized the teen sensation Steve Cauthen. Rosner earned national Associated Press Sports Editors Association awards for investigative reporting and for deadline writing as well as New York State AP and UPI awards for enterprise journalism. He also served as editor-in-chief of the national hockey magazine Rinkside and coauthored The Official Illustrated NHL History.
or
Not Currently Available for Direct Purchase