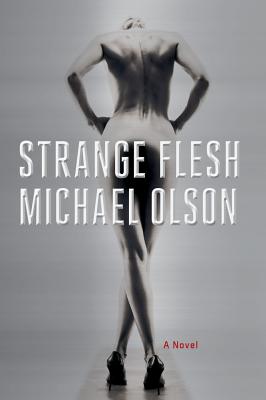 Strange Flesh
A Novel
Hardcover

* Individual store prices may vary.
Other Editions of This Title:
Paperback (2/12/2013)
Description
With its audacious premise, seductive prose, and dazzling climax, Strange Flesh will be the novel everyone is talking about this year.

THIS IS A STORY ABOUT SEX AND GAMES.

"The only clue we have to our brother's whereabouts is this place that doesn't really exist." Ten years ago, Blythe Randall broke James Pryce's heart. Now she needs his help. Her enigmatic appeal lures the elite hacker into his most tantalizing, and most personal, assignment yet. A Harvard dropout employed by Manhattan-based RedRook Security, James makes a living finding people who don't want to be found, pursuing their digital tracks around the globe, flushing out criminals, and exacting creative high-tech revenge on behalf of his clients. But this time he's following his target—billionaire multimedia artist Billy Randall—into an exotic and treacherous world: a virtual one.

Capping off an erratic, increasingly violent series of stunts meant to plague his family's media empire, black sheep Billy sends a video of his own suicide to his older siblings, aristocratic twins Blythe and Blake. In it, Billy "jacks out," reanimating onscreen as an avatar in a decadent online world called NOD. The performance is pure Billy—he has always been obsessed with "the Bleed": the moment when real and virtual selves intersect, where actions in one life breed consequences in another.

Blythe uses her influence to install James at GAME, a downtown media collective and one of Billy's recent haunts. Posing as a documentarian, James gains access to a small band of artists and programmers—contemporaries, and in some cases enemies, of Billy Randall—whose top secret project represents the holy grail of virtual reality. Meanwhile, James learns that as part of his most recent scheme, Billy himself has designed a lavish alternate reality game, an escalating, high-stakes virtual landscape of strange flesh.

In order to find him, James must play along.
Praise For Strange Flesh: A Novel…
"[An] entertaining entry into the cyber-thriller genre."—The Toronto Star

"In his head-spinning literary thriller, Olson takes us down a rabbit hole of kinky cybersex and multilevel mystery. . . . Reads like John Fowles' The Magus reimagined by William Gibson on a Red Bull bender . . . [a] complex, cutting edge debut."—Publishers Weekly (starred review)

"Strange Flesh is compelling cyberpunk, filled with plausible cyberwizardry, clever wordplay, murder, betrayal, and heaping helpings of gamer culture and kinky cybersex. Olson skillfully portrays worlds few readers know: quirky computing and robotics geniuses; Harvard's wealthy, privileged undergraduate royalty; and the surpassingly strange world of online gamers. . . . Crimes, both high and low; bleeding-edge technology; and titillation: What's not to love?"—Booklist (starred review)

"Readers can choose their poison in this richly composed slab of transgressive fiction by debut novelist Olson—say, a healthy measure of Neal Stephenson crossed with a slice of Warren Ellis with a serious splash of Nicholson Baker's sex novels. Crossing the barrier between sex, games and virtual reality, the book is likely to be the only Marquis de Sade–influenced thriller this year. . . . For readers with a penchant for this volatile mix of sex, violence and technology, the payoff is rich indeed."—Kirkus Reviews

"Strange Flesh is a fascinating novel about emerging technology . . . If you enjoy [Neal Stephenson, William Gibson, and Stieg Larsson], as well as Ernest Cline's great Ready Player One, and a fresh look at where things might be headed with our technology this is one intriguing read. . . . An amazing debut."—BlogCritics.org

"If The Girl with the Dragon Tattoo was a titillating introduction to hacker noir, then Strange Flesh seduces us into a rocking threesome with it. Blending taut suspense with tech savvy and vigorous prose, Michael Olson shows us a world so salacious, the real one looks flaccid by comparison. This debut tour de force will leave mystery fans flushed, breathless, and begging for more."—Dustin Thomason, coauthor of the New York Times bestseller The Rule of Four
Simon & Schuster, 9781451627572, 416pp.
Publication Date: April 3, 2012
About the Author
Michael Olson graduated from Harvard and worked in investment banking and software engineering before earning a master's degree from NYU's Interactive Technology Program, where he designed a locomotion interface for virtual environments.
or
Not Currently Available for Direct Purchase