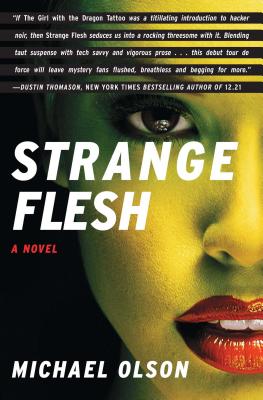 Strange Flesh
Paperback

* Individual store prices may vary.
Other Editions of This Title:
Hardcover (4/3/2012)
Description
In this "complex, cutting-edge debut" for fans of Neal Stephenson and The Millennium Trilogy, a troubled hacker goes undercover to locate a vanished tech prodigy and finds himself at the center of a tantalizing, high-stakes revolution in virtual reality (Publishers Weekly, starred review). IN THIS DEBUT THRILLER FOR FANS OF NEAL STEPHENSON AND THE MILLENNIUM TRILOGY, A TROUBLED HACKER FINDS HIMSELF AT THE CENTER OF A HIGH-STAKES REVOLUTION IN VIRTUAL REALITY. James Pryce, a hacker at Red Rook Security in Manhattan, has just received his most personal assignment yet. Blythe Randall, the woman who broke his heart in college, has hired him to locate her missing brother, Billy, whose increasingly violent stunts threaten to bring down their family's billion-dollar media empire. To do so, James must infiltrate Billy's last known whereabouts: GAME, a programming collective where a group of designers are at work on a top-secret invention that promises a revolutionary advance in sexual technology. James has to find Billy before his final plan is set in motion, but when the GAMErs invite him to their inner circle, his investigation takes a tantalizing--and much more dangerous--turn.
Praise For Strange Flesh…
"[An] entertaining entry into the cyber-thriller genre."—The Toronto Star



"In his head-spinning literary thriller, Olson takes us down a rabbit hole of kinky cybersex and multilevel mystery. . . . Reads like John Fowles' The Magus reimagined by William Gibson on a Red Bull bender . . . [a] complex, cutting edge debut."—Publishers Weekly (starred review)



"Strange Flesh is compelling cyberpunk, filled with plausible cyberwizardry, clever wordplay, murder, betrayal, and heaping helpings of gamer culture and kinky cybersex. Olson skillfully portrays worlds few readers know: quirky computing and robotics geniuses; Harvard's wealthy, privileged undergraduate royalty; and the surpassingly strange world of online gamers. . . . Crimes, both high and low; bleeding-edge technology; and titillation: What's not to love?"—Booklist (starred review)



"Readers can choose their poison in this richly composed slab of transgressive fiction by debut novelist Olson—say, a healthy measure of Neal Stephenson crossed with a slice of Warren Ellis with a serious splash of Nicholson Baker's sex novels. Crossing the barrier between sex, games and virtual reality, the book is likely to be the only Marquis de Sade–influenced thriller this year. . . . For readers with a penchant for this volatile mix of sex, violence and technology, the payoff is rich indeed."—Kirkus Reviews


"Strange Flesh is a fascinating novel about emerging technology . . . If you enjoy [Neal Stephenson, William Gibson, and Stieg Larsson], as well as Ernest Cline's great Ready Player One, and a fresh look at where things might be headed with our technology this is one intriguing read. . . . An amazing debut."—BlogCritics.org



"If The Girl with the Dragon Tattoo was a titillating introduction to hacker noir, then Strange Flesh seduces us into a rocking threesome with it. Blending taut suspense with tech savvy and vigorous prose, Michael Olson shows us a world so salacious, the real one looks flaccid by comparison. This debut tour de force will leave mystery fans flushed, breathless, and begging for more."—Dustin Thomason, coauthor of the New York Times bestseller The Rule of Four
Simon & Schuster, 9781451627589, 400pp.
Publication Date: February 12, 2013