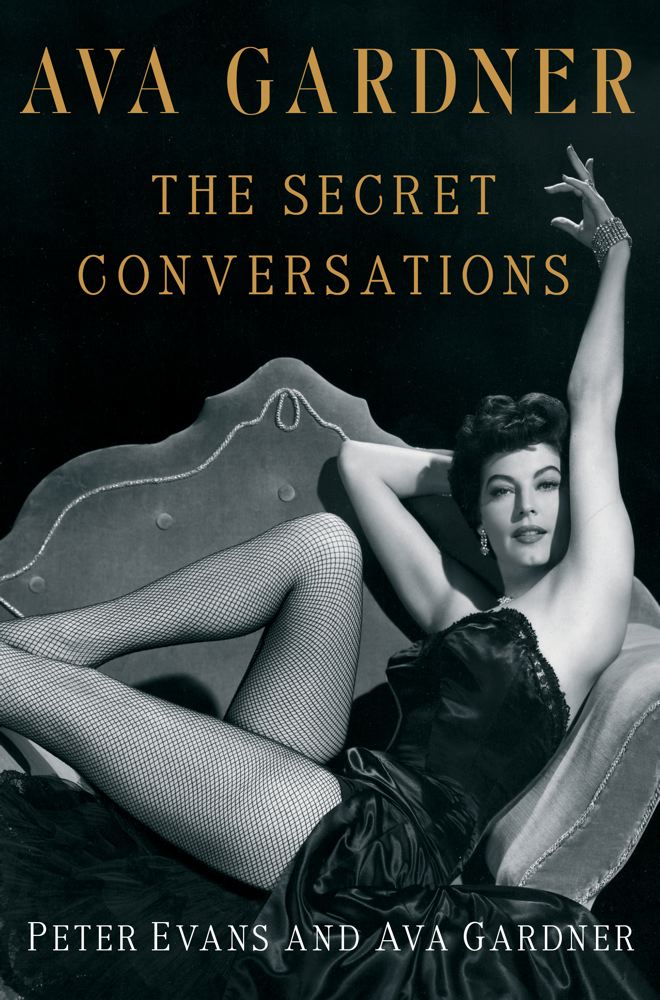 Ava Gardner
The Secret Conversations
Hardcover

* Individual store prices may vary.
Other Editions of This Title:
Paperback (7/8/2014)
MP3 CD (9/20/2016)
Compact Disc (5/3/2022)
Description
This wickedly candid memoir that Ava Gardner dared not publish during her lifetime offers a revealing self-portrait of the film legend's life and loves in Hollywood's golden age.

"I EITHER WRITE THE BOOK OR SELL THE JEWELS," Ava Gardner told her coauthor, Peter Evans, "and I'm kinda sentimental about the jewels." So began the collaboration that led to this remarkably candid, wickedly sardonic memoir.

Ava Gardner was one of Hollywood's great stars during the 1940s and 1950s, an Oscar-nominated lead­ing lady who co-starred with Clark Gable, Burt Lancaster, and Humphrey Bogart, among others. Her films included Show Boat, The Snows of Kilimanjaro, The Barefoot Contessa, and On the Beach. But her life off the screen was every bit as fabulous as her film roles.

Born poor in rural North Carolina, Gardner was given a Hollywood tryout thanks to a stunning photo of her displayed in a shop window. Not long after arriving in Hollywood, she caught the eye of Mickey Rooney, then America's #1 box-office draw. Rooney was a womanizer so notorious that even his mother warned Gardner about him. They married, but the marriage lasted only a year ("my shortest husband and my biggest mistake"). Ava then married band leader and clarinetist Artie Shaw, who would eventually marry eight times, but that marriage, too, lasted only about a year ("he was a dominating son of a bitch . . . always putting me down"). She carried on a passionate affair with Howard Hughes but didn't love him, she said. Her third marriage was a tempestuous one to Frank Sinatra ("We were fighting all the time. Fighting and boozing. It was madness. . . . But he was good in the feathers").

Faithfully recording Ava's reminiscences in this book, Peter Evans describes their late-night conver­sations when Ava, having had something to drink and unable to sleep, was at her most candid. So candid, in fact, that when she read her own words, she backed out and halted the book. Only now, years after her death, could this frank and revealing memoir be published.

"If I get into this stuff, oh, honey, have you got something coming," Ava told Evans. Ava Gardner: The Secret Conversations is the stunning story of a legendary star's public and private lives.
Praise For Ava Gardner: The Secret Conversations…
"[Makes] you feel as if you're eavesdropping. . . . Watching this Venus ply her mind games, sensuality and stubborn will on [her coauthor, Peter] Evans, it's easy to imagine what it was like to be a love object jerked on her marionette strings in her prime. You wouldn't have a chance."
— Maureen Dowd

"I read Ava Gardner: The Secret Conversations in a delirious gulp. It is absolutely terrific. I couldn't put it down. Gardner comes across as a flamboyant but tragic figure who always spoke the truth no matter how painful. And the way writer Peter Evans has shaped their conversations is truly remarkable."
— Patricia Bosworth, author of Jane Fonda: The Private Life of a Public Woman

"Jaw-dropping anecdotes about film legends and the studio system in its heyday make this an irresistible read. . . . Even seasoned fans will learn fresh tidbits about ex-husbands Mickey Rooney, Artie Shaw, and Frank Sinatra, as well as her tumultuous relationships with Howard Hughes and George C. Scott. . . . Gardner is funny and frank, and Evans's diligence makes the book not only one of the more revealing celebrity autobiographies published recently, but a candid glimpse into the world of a ghostwriter, star handler, and late-night confidante."
— Publishers Weekly (starred review)

"An unvarnished account of [Gardner's] marriages and affairs in golden-age Hollywood. . . . Give[s] a vivid sense of Gardner's salty, no-BS personality. . . . Juicy."
— Kirkus Reviews

"A complete delight. . . . [Gardner's] quotes exude the musk of a woman supremely indifferent to the social proprieties and expectations of her era. . . . Hers is the heartbreaking memoir of the ultimate heartbreaker."
— Carrie Rickey

"As a siren, [Gardner] held her own with [Marilyn] Monroe. And to judge by Ava Gardner: The Secret Conversations, Gardner was a more interesting woman. . . . A little jewel of a book."
— Harry Levins
Simon & Schuster, 9781451627695, 304pp.
Publication Date: July 2, 2013
About the Author
Peter Evans was a columnist and foreign correspondent with the Daily Express (UK), and wrote for the Los Angeles Times and Vogue, as well as every major newspaper in Britain. His books include Peter Sellers: The Man Behind the Mask and Nemesis. He died in 2012.

Ava Gardner was born in Grabtown, North Carolina, in 1922. Her films include The Killers, Showboat, Mogambo, The Barefoot Contessa, The Sun Also Rises, and On the Beach. She died in London in 1990.
or
Not Currently Available for Direct Purchase