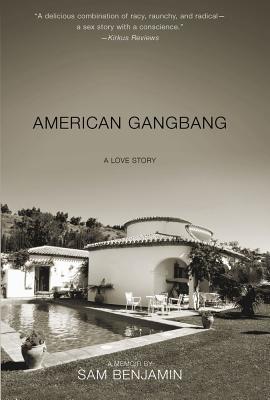 American Gangbang
A Love Story
Hardcover

* Individual store prices may vary.
Other Editions of This Title:
Paperback (4/12/2014)
Description
A thoughtful, hilarious, and compulsively readable memoir by an Ivy League graduate-turned-pornographer who sets out to bring sophistication and equality to sexual cinema—only to find that he can't change porn, but porn can certainly change him.

American Gangbang heralds the arrival of a profound and gifted new voice in narrative nonfiction. In 1999, after four years of studying at Brown University, Sam Benjamin heads to California in a twenty-year-old Volvo, dead set on turning himself into an artist, despite his complete lack of talent. There, stoned, he has an epiphany—he will make progressive porn. And so begins his turbulent journey. . . .

In whip-smart, lyrical prose, Benjamin traces his three-year immersion into the world of Hollywood's bleak, screen glow–lit doppelganger: the southern California sex industry. His rapid ascent from the dingy storefront rental of a starving artist to the multimillion-dollar Malibu villa of a full-fledged porn producer confronts him with the uncomfortably alluring realities of America's strangest industry: gun-toting actors, high on terrible, drug-induced potency; giggling actresses battling internal demons in wobbly heels and pink fishnets; the insatiable consumer demands to sink ever lower, more exploitative, nastier. The result is the titillating, dramatic chronicle of a young man who invites the deepest, most troubling parts of himself to rise to the surface in order to get a good look at them—only to find that what he sees makes his world seem suddenly very small.

A provocative, universal coming-of-age story, American Gangbang explores with unflinching honesty the darkly rich junction of sex and self-discovery.
Praise For American Gangbang: A Love Story…
"A delicious combination of racy, raunchy and radical—a sex story with a conscience." —Kirkus

"Fascinating . . . A disturbing and remarkable debut." —Publishers Weekly

"One of the Sexiest Books of the Year." —San Francisco Bay Guardian

"Sam Benjamin is as agile a sleaze sherpa as a reader could hope for, guiding us through the porno landscape in all of its revolting, transcendent glory. As a matter of course, this memoir brims with heart, humor, passion and precision – and unwavering candor."—Grace Krilanovich, author of The Orange Eats Creeps

"If you threw Tom Wolfe, Groucho Marx, Ilsa She-Wolf of the SS and the cast of Porky's II together in a Burbank motel room with a camcorder and a mattress soaked with amyl nitrate and they all had an orgy, and that orgy wrote a book, it would be American Gangbang—a sleazy goofball romp of surprising wit, with an endearingly gooey center."—Cintra Wilson, author of Colors Insulting to Nature and Caligula for President: Better American Living Through Tyranny

"Sam Benjamin has written the seemingly impossible: a memoir about making porn that is utterly hilarious and only a tiny bit tragic."—Rev Jen, author of Elf Girl

"This cumming of age tale is the quintessential American story. Young man has a dream. Works hard. Rises to the top. Bottoms out when he finds the top is filled with filth and hardcore degradation. Shockingly honest, whip smart, funny and disturbing, Sam Benjamin exposes the gaping chasm between fantasy and reality when it comes to filming sex for money. Imagine The Graduate if the hero dove into porn instead of Mrs. Robinson."—David Henry Sterry, author of Chicken: Self-Portrait of a Young Man for Rent

"For an eye-opening (and occasionally eye-covering) descent into the underworld of porn, you couldn't ask for a better Dante than Sam Benjamin. Possessing a charismatic voice, equal parts lusty and lovely, he's the wheatgrass-juicing, camera-zooming, over-sharing heart of this hilarious, occasionally horrifying memoir."—Andy Greenwald, author of Miss Misery and Nothing Feels Good: Punk Rock, Teenagers, and Emo

"Remarkably, Sam Benjamin has written a book that will appeal to porn enthusiasts, anti-porn crusaders, and the millions of who find themselves stuck in the middle. Sure, American Gangbang is filthy and over-sexed; it's also deeply conflicted and at times, unsettling. But the real shock is how much anyone can relate in spite of all the fake tits and endless flowing lube. In American Gangbang, as in life, smut just kind of happens. In that, it looks an awful lot like love."—Bethlehem Shoals, founder of FreeDarko.com and co-author of The Undisputed Guide to Pro Basketball History
Gallery Books, 9781451627787, 320pp.
Publication Date: October 18, 2011
or
Not Currently Available for Direct Purchase