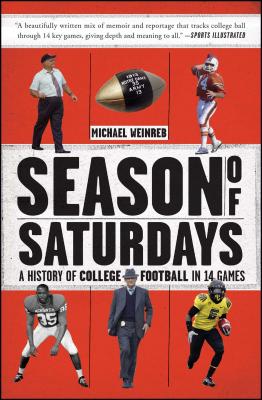 Season of Saturdays
A History of College Football in 14 Games
Paperback

* Individual store prices may vary.
Other Editions of This Title:
Hardcover (8/19/2014)
Description
From an award-winning sports journalist and college football expert: "A beautifully written mix of memoir and reportage that tracks college ball through fourteen key games, giving depth and meaning to all" (Sports Illustrated), now with a new Afterword about the first ever College Football Playoff.

Every Saturday in the fall, it happens: On college campuses, in bars, at gatherings of fervent alumni, millions come together to watch a sport that inspires a uniquely American brand of passion and outrage. This is college football. Since the first contest in 1869, the game has grown from a stratified offshoot of rugby to a ubiquitous part of our national identity. Right now, as college conferences fracture and grow, as amateur athlete status is called into question, as a playoff system threatens to replace big-money bowl games, we're in the midst of the most dramatic transitional period in the history of the sport.

Season of Saturdays examines the evolution of college football, including the stories of iconic coaches like Woody Hayes, Joe Paterno, and Knute Rockne; and programs like the USC Trojans, the Michigan Wolverines, and the Alabama Crimson Tide. Michael Weinreb considers the inherent violence of the game, its early seeds of big-business greed, and its impact on institutions of higher learning. He explains why college football endures, often despite itself. Filtered through journalism and research, as well as the author's own recollections as a fan, Weinreb celebrates some of the greatest games of all time while revealing their larger significance.

"Wry, quirky, fascinating...This surely is one of the most enjoyable books of the college football season...Weinreb wrestles in captivating prose with the violence, hypocrisy, and corruption that are endemic to the sport at its most cutthroat level" (The Plain Dealer, Cleveland).
Praise For Season of Saturdays: A History of College Football in 14 Games…
"Season of Saturdays is simply an unforgettable read. It is a deeply moving portrait of America's greatest game, exquisitely written by Michael Weinreb. The reader is captured and captivated from the first line and it holds all the way to the index at the end. I could go on but I am thinking about starting Season of Saturdays again—I liked it that much."
— Paul Finebaum, author of "My Conference Can Beat Your Conference"

"This book is really two books, interwoven into one. The first is an entertaining history of America's most interesting game, described by someone who knows. The second is the story of a man trying to work through his deepest fears and insecurities by sitting on the couch and watching TV (and—in all likelihood—caring too much about what he sees). But the reason the first book matters is because the second book explains most people who love college football."
— Chuck Klosterman, author of "Sex, Drugs and Cocoa Puffs" and "I Wear the Black Hat"

"Michael Weinreb journeys through the black and white college football world of the nostalgia junkie and the cynical critic and finds both of them wrong: college football, like America, is a culture of troubling, electrifying gray. This is our story."
— Wright Thompson, senior writer, ESPN

"No sport explains America quite like college football, and no writer explains college football with more passion and insight than Michael Weinreb. Season of Saturdays is both fun and insightful, and belongs on the shelf of anybody who loves the sport."
— Michael Rosenberg, author of War as They Knew It

"A passionate defense of college football... entertaining and enlightening for both rabid fans and newbies."
— Kirkus Reviews

"A discursive, informative, sardonic, and often hilarious account of a sport attended by 50 million colorfully dressed fans every year. The book is being published at a time when the game is, as it often has been, in transition and under considerable scrutiny…questions of race, corruption, amateurism, trickery, hypocrisy, and hyper-aggressiveness are integral components of this absorbing book."
— Booklist

"[A] beautifully written mix of memoir and reportage that tracks college ball through 14 key games, giving depth and meaning to all."
— Sports Illustrated

"[A] beautiful meditation….well-researched….studded withsharply distilled character sketches….an intimate and deeply personalrumination on the sport's meaning."
— The Boston Globe

"Wry, quirky, fascinating….This surely is one of the mostenjoyable books of the college football season….Weinreb wrestles in captivatingprose with the violence, hypocrisy and corruption that are endemic to the sportat its most cutthroat level."
— The Cleveland Plain Dealer

"College football is a confounding sport with an arcane history at the intersection of higher education, the twilight of adolescence, and semi-professional football, all institutions of questionable integrity. The mix is captured and explained beautifully in Michael Weinreb's new book 'Season of Saturdays'….required reading."
— Washington Free Beacon

"A must-read for the college fan."
— St. Louis Post-Dispatch

"Snappy and well-written."
— Portland Oregonian

"[An] engaging and entertaining read."
— Penn State News

"Every college football fan needs this book...Weinreb is such an entertaining writer, even those who hate the sport will love this book."
— The Florida Times-Union

"This cultural history of the game belongs on the shelf of every hardcore college football fan. [Weinreb's] candor and passion are displayed on every page."
— Publishers Weekly
Scribner, 9781451627824, 288pp.
Publication Date: August 11, 2015
About the Author
Michael Weinreb has written about college football for The New York Times, GQ, Sports on Earth, ESPN, and Grantland. He has been featured on NPR's This American Life and ESPN's 30 for 30, and has appeared on CNN, ESPN, and ESPN Radio. His book Game of Kings won the Quill Award for Best Sports Books of 2007. He lives in San Francisco, California.