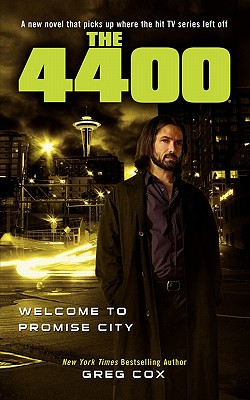 The 4400 (Paperback)
Welcome to Promise City
Gallery Books, 9781451628142, 304pp.
Publication Date: November 8, 2010
* Individual store prices may vary.
Description

Based on the hit USA Network series The 4400, an original novel about a group of 4400 people taken out of their time and returned to the present day with special powers, only no one, including them, is sure if they are a force for good...or for evil.

Over nine thousand people were killed in Seattle, when promicin was unleashed within the city limits. Now the Federal government has to decide how to deal with citizens who have powers and abilities that cannot be legislated. An uneasy truce has arisen between Jordan Collier, the self-styled leader of The 4400, and the Federal government. While he stopped more people from being killed, Collier was the one responsible for unleashing promicin on the world. Now governments around the world have to wonder just who controls these powerful people and just what are Collier and The 4400 going to do next?
About the Author
Greg Cox is the New York Times bestselling author of numerous Star Trek novels and short stories. He has also written the official movie novelizations of War for the Planet of the Apes, Godzilla, Man of Steel, The Dark Knight Rises, Daredevil, Ghost Rider, and the first three Underworld movies, as well as books and stories based on such popular series as Alias, Buffy the Vampire Slayer, CSI, Farscape, The 4400, Leverage, The Librarians, Roswell, Terminator, Warehouse 13, Xena: Warrior Princess, and Zorro. He has received three Scribe Awards from the International Association of Media Tie-In Writers, as well as the Faust Award for Life Achievement. He lives in Lancaster, Pennsylvania. Visit him at GregCox-Author.com.
or
Not Currently Available for Direct Purchase