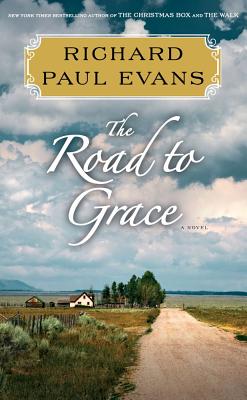 The Road to Grace (Hardcover)
Simon & Schuster, 9781451628180, 256pp.
Publication Date: May 8, 2012
* Individual store prices may vary.
or
Not Currently Available for Direct Purchase
Description
From one of America's most beloved storytellers comes the inspiring third installment of the bestselling series, The Walk, the ongoing story of one man's unrelenting search for hope. Join one of America's beloved storytellers on a walk like no other: one man's unrelenting search for hope. Reeling from the sudden loss of his wife, his home, and his business, Alan Christoffersen, a once-successful advertising executive, has left everything he knew behind and set off on an extraordinary cross-country journey. Carrying only a backpack, he is walking from Seattle to Key West, the farthest destination on his map. Now almost halfway through his trek, Alan sets out to walk the nearly 1,000 miles between South Dakota and St. Louis, but it's the people he meets along the way who give the journey its true meaning: a mysterious woman who follows Alan's walk for close to a hundred miles, the ghost hunter searching graveyards for his wife, and the elderly Polish man who gives Alan a ride and shares a story that Alan will never forget. Full of hard-won wisdom and truth, The Road to Grace is a compelling and inspiring novel about hope, healing, grace, and the meaning of life.
About the Author
Richard Paul Evans is the #1 bestselling author of The Christmas Box. His novels have each appeared on the New York Times bestseller list; there are more than 13 million copies of his books in print. His books have been translated into more than twenty-two languages and several have been international bestsellers. He is the winner of the 1998 American Mothers Book Award, two first place Storytelling World Awards for his children's books, the 2010 German Leserpreis Gold Award for Romance, and the 2005 Romantic Times Best Women Novel of the Year Award. Evans received the Washington Times Humanitarian of the Century Award and the Volunteers of America National Empathy Award for his work helping abused children. Evans lives in Salt Lake City, Utah, with his wife, Keri, and their five children.
Praise For The Road to Grace…
"There's no doubt Evans knows how to keep the pages turning. A cliff-hanger ending ups the stakes, putting Alan's journey in jeopardy and ensuring readers will come back for the fourth outing. There's no stopping now."—Booklist


"A fast and pleasurable read with plenty of local color and enough sentiment to evoke a tear or two."—Kirkus

"Though written with a religious tone, The Road to Grace is for people of all beliefs. It is an intriguing story that is simply enjoyable to read."—Deseret Morning News
Advertisement