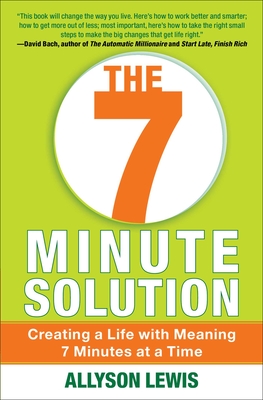 The 7 Minute Solution
Creating a Life with Meaning 7 Minutes at a Time
Paperback

* Individual store prices may vary.
Other Editions of This Title:
Paperback, Spanish (11/30/2012)
Hardcover (12/27/2011)
Description
Forget about ordinary time management—The 7 Minute Solution offers breakthrough time strategies. It is a straightforward, inspirational process filled with innovative ideas, human stories, concrete tools, and the captivating science of how you can truly change your daily habits to be more productive and find deeper meaning and purpose in life.

POPULAR TIME MANAGEMENT SPEAKER AND AUTHOR ALLYSON LEWIS writes: "My life changed forever when I took seven minutes to write down my purpose." With The 7 Minute Solution, you too can become a different person tomorrow from the person you are today—more energetic, more resilient, and more positive.

Learn time strategies to prioritize, organize, and simplify all aspects of your life at work and at home. By breaking down big-picture goals and overwhelming challenges into manageable daily actions, you will find that you are able to achieve more than you ever have before. Using the 7 Minute tools, ideas, checklists, processes, and systems included in this book you will be able to manage your time to focus your attention, to concentrate on your highest-value activities, to dramatically increase your daily productivity with one piece of paper, and to accomplish more in the next ninety days than you ever have before.

With plenty of real-life human stories, The 7 Minute Solution's straightforward, inspirational process and winning techniques will get you from where you are to where you want to be.
Praise For The 7 Minute Solution: Creating a Life with Meaning 7 Minutes at a Time…
"This book is for the time starved, development driven. If you are low on time and high on talent you will want to read The 7 Minute Solution." -- Jason Womack, Author of Your Best Just Got Better

"Lewis's refreshingly straightforward, plain-talk approach makes for an uplifting read -- it will change the way you live. Here's how to work better and smarter; how to get more out of less; most important, here's how to take the right small steps to make the big changes that get life right." -- David Bach, author of The Automatic Millionaire

"Life is a series of minutes. Allyson Lewis makes it clear that creating a meaningful life is more than possible, it is a deliberate choice. The 7 Minute Solution will encourage and challenge you to embrace your purpose and embrace a life with meaning." -- Laurie Beth Jones, author of The Path and Jesus CEO, Business Coach and Spiritreneur

"Allyson Lewis's inspiring new book paves the way to your new life with her smart advice and memorable tips you can put into action immediately. You can change your life, and The 7 Minute Solution shows you how!" -- Dr. JoAnn Dahlkoetter, author of Your Performing Edge

"The 7 Minute Solution is a LIFE CHANGER! What makes this book so powerful is perfect blend of connecting your heart and soul to your daily and life goals. And then providing you with the tools to actual implement life changing strategies on daily, weekly and month basis." -- Dave Savage, Founder and CEO of Mortgage Coach

"Motivational speaker and financial adviser Lewis writes: "My life changed forever when I took seven minutes to write down my purpose." After targeting business success and professional decision-making in The 7 Minute Difference, she widens her scope with this new self-help toolbox, showing how to focus attention for seven minutes daily on what is most meaningful in one's life: "one of the core principles... is that taking tiny steps forward every day quickly adds up to monumental change." Her goal is help people find order in the chaos of their lives, to define their priorities and to help people organize them into a fashion where they can "clearly see where they want to go." She details seven "vital signs" of life: conscious awareness, motivation, growing and learning, engaging, persevering, living in flow, and living with faith. Each gets a lengthy chapter analysis, illuminated with personal anecdotes or historical events, such as the survival story of British explorer Ernest Shackleton (who exemplifies perseverance). Although much of Lewis's writing is redundant, her in-depth presentation will appeal to readers seeking ways to upgrade their personal development." -- Publishers Weekly

"Her in-depth presentation will appeal to readers seeking ways to upgrade their personal development."
— Publishers Weekly

"A life-changing, life-affirming book! Invest a tiny slice of each day in yourself with this daily dose of boot camp for your mind, your spirit and your future. By mastering small challenges on a steady basis, you'll build self-confidence, self-esteem, and perseverance, one small step at a time. Tiny steps lead to great feats."
— Lt. Col. Dave Grossman USA (ret.), author of On Combat

"The 7 Minute Solution is the anecdote for overloaded lives. This results-driven system will boost your productivity and empower you to build more meaning in your life. When you are ready to tap into your true potential, please allow Allyson Lewis be your guide."
— Steve Saenz, Founder of CopernicusVillage.com, Creativity Lives Here™

"Full of ideas, methods and suggestions, [this] is a toolbox no one should be without."
— Ken Blanchard

"This fast-moving, practical book is loaded with great ideas you can use immediately."
— Brian Tracy
Atria Books, 9781451628234, 368pp.
Publication Date: January 1, 2013
About the Author
Allyson Lewis is a renowned time strategy expert, productivity speaker, and author of three books who has spent the last thirty years developing and teaching concrete, actionable business ideas to executives all over the country. Now, in The 7 Minute Solution, she shares these winning techniques and explains how you can apply them to all aspects of life. She lives in Jonesboro, Arkansas.
or
Not Currently Available for Direct Purchase