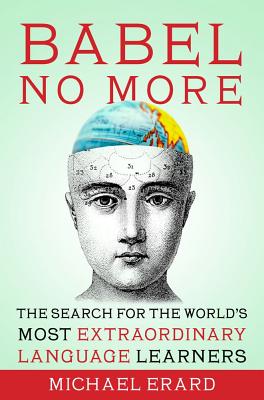 Babel No More (Hardcover)
The Search for the World's Most Extraordinary Language Learners
Free Press, 9781451628258, 320pp.
Publication Date: January 10, 2012
Other Editions of This Title:
Paperback (10/2/2012)
MP3 CD (5/17/2016)
* Individual store prices may vary.
Description
In the tradition of the bestsellers Word Freak and The Language Instinct comes a fascinating exploration of linguistic superlearners whose abilities shed light on the intellectual potential in us all.

What do an Italian cardinal, a Connecticut blacksmith, and a German diplomat have in common with an MIT linguist, a Hungarian translator, and a Scottish church organist? They were all "hyperpolyglots," "language superlearners," or "massive multilinguals." In Babel No More, Michael Erard delves into the lives and minds of these intriguing individuals both past and present and discovers the upper limit of the human ability to learn, speak, and remember languages.

Hyperpolyglots—people who, by one definition, can use six or more languages—are fascinating not simply because what they do is out of the ordinary. Rather, their accomplishments serve as a point of reference for the rest of us—in some ways they are what the author calls a gifted neural tribe, absorbing language for reasons, and with methods, that few people would emulate. But they are also marked by simple, if dogged, methods—the most prolific multilingual in history, Cardinal Mezzofanti, used flashcards. Taken together, their pursuits present a natural experiment into the limits and the nature of memory and language.

Part scientific detective story, part travelogue, part valentine to anyone who's ever hoped to sprechen or parler something other than a mother tongue, Babel No More takes us all over the world to look at language learning in an entirely new way.
About the Author
Michael Erard has graduate degrees in linguistics and rhetoric from the University of Texas at Austin. He's written about language, linguists, and linguistics for Wired, The Atlantic, The New York Times, and many other publications and is a contributing writer for The Texas Observer and Design Observer. He is the author of Um…: Slips, Stumbles, and Verbal Blunders, and What They Mean.
Praise For Babel No More: The Search for the World's Most Extraordinary Language Learners…
"Among the surprising qualities of Babel No More, Michael Erard's globe-trekking adventure in search of the world's virtuosos of language learning, is that a book dealing with language acquisition and polyglot linguistics can be so gripping. But indeed it is – part travelogue, part science lesson, part intellectual investigation, it is an entertaining, informative survey of some of the most fascinating polyglots of our time." –The New York Times Book Review

"A fine addition to our favorite books about language…Captivating and illuminating, Babel No More is as much an absorbing piece of investigative voyeurism into superhuman feats as it is an intelligent invitation to visit the outer limits of our own cerebral potential." –The Atlantic Monthly

"In Babel No More, Michael Erard has written the first serious book about the people who master vast numbers of languages... [Erard] approaches his topic with both wonder and a healthy dash of scepticism ... repeatedly pepper[ing] his text with such questions, feeling his way through his story as a thoughtful observer, rather than banging about like an academic with a theory to defend or a pitchman with a technique to sell...fascinating." – The Economist

"Babel No More is a thorough delight. People always have questions for linguists about learning new languages and being bilingual, unaware of the peculiar fact that modern linguistics has nothing to do with learning how to speak new languages. This book finally gives an informed and even addictive guide to why some people pick up new languages so easily and how maybe you can too." – John McWhorter, Columbia University and New Republic Contributing Editor

"In this book, Michael Erard takes us on a captivating journey in search of hyperpolyglots– those rare and unique individuals who have mastered six or more languages. Part biography, part detective story, Erard's spellbinding book offers us a window through which we may view the lives of these remarkable (and remarkably diverse) characters, telling their stories while trying to answer the fundamental question: how did they do it?" – Claude Cartaginese, Editor, The Polyglot Project

"Erard gets beneath the surface of the hyperpolyglot, piercing the myth of perfect competence, to show the actual landscape of motives, obstacles and satisfactions that texture the world of the long-distance language-learner. [They] are revealed as a tantalizing tribe, individually reticent and even charming, as they offer their incomprehensible fluency to the world at large." – Nicholas Ostler, author of The Last Lingua Franca (2010)

"A fascinating study of the unusual ability to learn multiple languages. This opens up a new area of research in the study of giftedness." – Ellen Winner, author of Gifted Children, Myths and Realities

"An intrepid and savvy linguistic explorer, Michael Erard sets out to find the world's masters of multiple languages. He discovers the best of them, and much more about their talents and brains, their motivation and habits, and their places in society. Babel No More brings the genius language learners to life. It will delight the enthusiasts who love the challenge of learning foreign languages, and will comfort the weary who dreaded facing Latin verb conjugations." – Deborah Fallows, author of Dreaming in Chinese: Mandarin Lessons in Life, Love, and Language

"You'll be awed by the incredible characters in this eye-opening book." – Joshua Foer, author of Moonwalking with Einstein
Book Videos
or
Not Currently Available for Direct Purchase