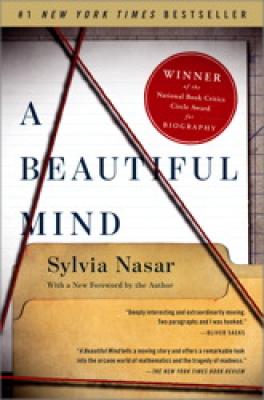 A Beautiful Mind (Paperback)
Simon & Schuster, 9781451628425, 464pp.
Publication Date: July 12, 2011
* Individual store prices may vary.
Description
In this powerful and dramatic biography Sylvia Nasar vividly recreates the life of a mathematical genius whose career was cut short by schizophrenia and who, after three decades of devastating mental illness, miraculously recovered and was honored with a Nobel Prize.

"How could you, a mathematician, believe that extraterrestrials were sending you messages?" the visitor from Harvard asked the West Virginian with the movie-star looks and Olympian manner. "Because the ideas I had about supernatural beings came to me the same way my mathematical ideas did," came the answer. "So I took them seriously."

Thus begins the true story of John Nash, the mathematical genius who was a legend by age thirty when he slipped into madness, and who—thanks to the selflessness of a beautiful woman and the loyalty of the mathematics community—emerged after decades of ghostlike existence to win a Nobel Prize for triggering the game theory revolution. The inspiration for an Academy Award–winning movie, Sylvia Nasar's now-classic biography is a drama about the mystery of the human mind, triumph over adversity, and the healing power of love.
About the Author
Sylvia Nasar is the author of the bestselling A Beautiful Mind, which won the National Book Critics Circle Award for biography. She is the John S. and James. L Knight Professor at the Columbia Graduate School of Journalism.