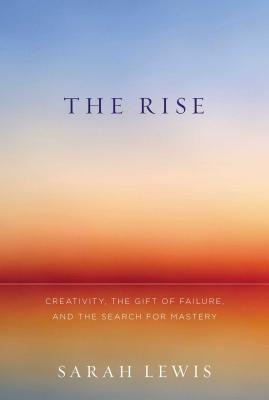 The Rise
Creativity, the Gift of Failure, and the Search for Mastery
Hardcover

* Individual store prices may vary.
Other Editions of This Title:
Digital Audiobook (3/3/2014)
Paperback (3/17/2015)
CD-Audio (3/4/2014)
Description
"Sarah Lewis has assembled a rich trove of reflections not just on creativity but on the too-often ignored role that failure and surrender play in almost any ambitious undertaking. That counter-intuitive point of attack makes The Rise a welcome departure from standard accounts of artistry and innovation." —Lewis Hyde, author of The Gift

It is one of the enduring enigmas of the human experience: many of our most iconic, creative endeavors—from Nobel Prize–winning discoveries to entrepreneurial inventions and works in the arts—are not achievements but conversions, corrections after failed attempts.

The gift of failure is a riddle. Like the number zero, it will always be both a void and the start of infinite possibility. The Rise—a soulful celebration of the determination and courage of the human spirit—makes the case that many of our greatest triumphs come from understanding the importance of this mystery.

This exquisite biography of an idea is about the improbable foundations of creative human endeavor. The Rise begins with narratives about figures past and present who range from writers to entrepreneurs; Frederick Douglass, Samuel F. B. Morse, and J. K. Rowling, for example, feature alongside choreographer Paul Taylor, Nobel Prize–winning physicists Andre Geim and Konstantin Novoselov, Arctic explorer Ben Saunders, and psychology professor Angela Duckworth.

The Rise explores the inestimable value of often ignored ideas—the power of surrender for fortitude, the criticality of play for innovation, the propulsion of the near win on the road to mastery, and the importance of grit and creative practice. From an uncommonly insightful writer, The Rise is a true masterwork.
Praise For The Rise: Creativity, the Gift of Failure, and the Search for Mastery…
"Lewis ain't just one of Oprah's favorite people; she's also one of the most gifted women anywhere and her meditation on failure and mastery is exhilarating, inspiring, profound and so beautifully written it left me breathless. Lewis writes profoundly about 'the gift of failure' but the true gift here is this book."—Junot Diaz

"The Rise points us toward the dazzling afterlife of the dead end, shining light on numerous other counter-intuitive paths to mastery. It delineates the impetus that can be prized from failure, the genius lurking in amateurism, the scientific insights hidden within artistic process. Sarah Lewis meditates on the ways we can will ourselves across the chasms of self-doubt that separate us from astonishing innovation and insight."
— Andrew Solomon, author of Far from the Tree

"Success and failure are often seen as polar opposites, one the peak and the other the abyss. In The Rise, Sarah Lewis reexamines our views of both and offers news paths and paradigms. Like Malcolm Gladwell, she brilliantly takes complex ideas and makes them easy to follow, making it possible for us to see the world in a brand new way."
— Edwidge Danticat, author of Create Dangerously

"Sarah Lewis has assembled a rich trove of reflections not just on creativity but on the too-often ignored role that failure and surrender play in almost any ambitious undertaking. That counter-intuitive point of attack makes The Rise a welcome departure from standard accounts of artistry and innovation."
— Lewis Hyde, author of The Gift

"The Rise is a tour d' force—uplifting, smart, and important."
— Ellen Langer, Professor of Psychology, Harvard University, author of Counter Clockwise

"A work of rare insight and sensitivity, brilliantly researched and beautifully written, The Rise shows you how to stay open and be fearless. Sarah Lewis takes you to unexpected places, to spheres that just may become fabulous. There is no other book like it in the world."
— Nell Painter, Edwards Professor of American History at Princeton University

"The Rise marks the arrival of Sarah Lewis. With wit, heart, and remarkable research, Lewis elegantly demonstrates why excruciating, even humiliating failure is essential for success and mastery. The Rise is rich with lessons for all of us."
— Darren Walker, President of the Ford Foundation

"Creativity is not a process, as so many books would like us to believe. It is a human condition waiting to be unearthed, as Sarah Lewis so beautifully shows us through her sharing of connected stories and personal insights in The Rise. "
— Ivy Ross, CMO of Art.com

"Sarah Lewis is one the most talented writers and curators of her generation. The Rise should not just be read by every artist, but by every person hoping to unearth his or her own capacity for discovery and creativity. She provides an important and positive voice for the arts in a turbulent time."
— Agnes Gund, President Emerita, The Museum of Modern Art

"I was raised to be terrified of making mistakes, as though there was a smooth way forward without them. There is no other way forward; either you stumble through error, failure, risk and uncertainty on the available paths or you're stuck. Sarah Lewis's The Rise makes a beautiful case both for the necessity of risk and failure and experimentation and for how the road to success is paved with such things, and along the way she tells us about arctic exploration, a future Supreme Court lawyer's captivation with Louis Armstrong's music, something surprising about Hollywood, Frederick Douglass's emphasis on beauty, and a host of other captivating stories to prove her points. 'My life is full of mistakes. They're like pebbles that make a good road,' said the great ceramicist Beatrice Wood; this is a map of such roads and a collection of the most beautiful of those stones."
— Rebecca Solnit, author of The Faraway Nearby

"Independence from everything other than life itself, is what makes any writer significant to the serious reader. Sarah Lewis is sensitive to deep meanings that are not common but always, due to her vibrant prose, seem exquisitely natural. Too much about her independence from the expected, cannot be said."
— Stanley Crouch, author of Kansas City Lightning

"Lewis's erudition in art and history is matched by her sympathy to the iterative failures of great art, making inspiring readers for those in the process of creation"

"Creativity, like genius, is inexplicable, but Lewis' synthesis of history, biography and psychological research offers a thoughtful response to the question of how new ideas happen."

"A well-written book that examines creativity, failure, and success. Recommended for anyone who wants to comprehend the value of innovation and discovery, as well as undergraduate and graduate students, scholars, and researchers of psychology, sociology, and the visual and performing arts."

"Without a whiff of self-help preachiness, The Rise will make you reconsider your own foibles and flops, if only by showing how minor they are compared with the epic setbacks she details. From Martin Luther King Jr.'s struggle to overcome a distracting verbal tic to the phenomenon of elite women archers who go from regularly nailing the bull's-eye to suddenly not even making the target, the book gives the old chestnut "If at first you don't succeed…" a jolt of adrenaline."

"Lewis, driven by her lifelong "magpie curiosity about how we become," crafts her argument slowly, meticulously, stepping away from it like a sculptor gaining perspective on her sculpture and examining it through other eyes, other experiences, other particularities, which she weaves together into an intricate tapestry of "magpielike borrowings" filtered through the sieve of her own point of view. The Rise is a dimensional read in its entirety — highly recommended."
— Maria Popova

"Lewis's voice is so lyrical and engaging that her book, "The Rise," can be read in one sitting, which is so much the better since its argument is multilayered and needs to be taken whole."
Simon & Schuster, 9781451629231, 272pp.
Publication Date: March 4, 2014
About the Author
Sarah Lewis has served on President Obama's Arts Policy Committee, been selected for Oprah's "Power List," and is a Critic at the Yale University School of Art in the MFA program. She is also an active curator, having held positions at both the Tate Modern and The Museum of Modern Art. Her writing on contemporary art has been published extensively. She received her BA from Harvard University, an MPhil from Oxford University, and her PhD from Yale University. She lives in New York City.
or
Not Currently Available for Direct Purchase