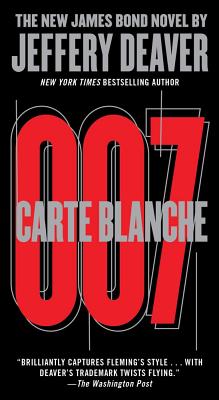 Carte Blanche: The New James Bond Novel (Mass Market Paperbound)
The New James Bond Novel
Pocket Star Books, 9781451629354, 517pp.
Publication Date: January 24, 2012
* Individual store prices may vary.
or
Not Currently Available for Direct Purchase
Description
James Bond as you've never sen him before...in the smashing new thriller and #1 international bestseller from Jeffrey Deaver. A Night Action alert calls James Bond away from dinner with a beautiful woman. Headquarters has decrypted an electronic whisper--plans for a devastating attack: Casualties estimated in the thousands, British interests adversely affected. James Bond, in his early thirties and already a veteran of the Afghan War, has been recruited to a new organization. Conceived in the post-9/11 world, it operates independent of MI5, MI6, and the Ministry of Defense, its very existence deniable. Its aim: to protect the Realm, by any means necessary. And Agent 007 has been given carte blanche to do whatever it takes to fulfill his mission...
About the Author
Jeffery Deaver is the bestselling author of Edge, The Burning Wire, The Broken Window, The Bone Collector, The Blue Nowhere, The Empty Chair, and many other novels of suspense. A former lawyer, he lives in North Carolina.
Praise For Carte Blanche: The New James Bond Novel…
"A magnificently manic, impeccably researched and at times gory plot, with Deaver's trademark misdirection and twists flying."—The Washington Post



"His creator may be long gone, but James Bond (with his gadgets, women, and suave lines) lives on in the skillful hands of a suspense superstar."—Malcolm Jones, Newsweek Magazine, "10 Must-Read Summer Books"



"Ian Fleming's estate tapped American novelist Deaver to pen a new James Bond thriller, and the pairing is as smooth as vodka and vermouth. Yes, the villains are creepy and the women brainy and beautiful, but in a clever reboot, this 007 (who served in Afghanistan) comes armed with a tricked-out cell phone and an appealing sense of empathy."—Parade



"Ian Fleming's estate made a superb choice when it turned to thriller writer Jeffery Deaver for this summer's James Bond reboot Carte Blanche. . . . Familiar touches about, from M and Moneypenny to exotic locales. Then, too, Deaver adds a knowing wink . . . A spry spy bash not to be missed."—Christian Science Monitor



"Carte Blanche is a fantastic book. . . . Deaver knows psychology and it shines here. Moreover, he knows human relationships . . . as [Ian Fleming's stepdaughter] best summarized it, Jeffery Deaver truly got it."—Ann Arbor News



"A page-turning, action packed rip-roaring novel with plenty of twists and surprises."—Durham Herald-Sun



"Deaver, if anything, has written a 007 thriller that is superior to the best of Fleming."—San Jose Mercury News



"Jeffery Deaver accepted one of the greatest literary challenges of the new millennium when he agreed to write a new James Bond novel. . . . With Carte Blanche, [he] somehow manages to spin a top-notch 21st-century spy thriller while both respecting Bond and reinventing him."—Washington Independent Review of Books



"This terrific new pastiche will amply reward Bond fans and possibly bring new readers into the fold. Deaver (Edge), an avowed fan of the Fleming canon, has set the novel in the post-9/11 present, and Bond, that icon of the 1960s, handles the transition perfectly. . . . The plot is predictable in a purely Bond-ian way (credibly incredible), but also intricate and inventive, surprising and satisfying—a testament to Deaver's skill as a storyteller. . . . Fleming purists may balk at the hint of a New Age sensitivity in Deaver's Bond, but they will recognize one of the world's most enduring fictional characters: competent, courageous, charming, and cool."—Publishers Weekly



"Deaver, as fans of his Lincoln Rhyme and Kathryn Dance thrillers would expect, has clearly done his homework. . . . the most impressive feature of Carte Blanche is the ingenuity of the breathless, blood-thirsty plot. A master of misdirection, Deaver manufactures more surprises than anyone flogging an old warhorse can be expected to produce. . . . Kingsley Amis, John Gardner and Sebastian Faulks are among those who have tried to bring Bond back to life. Deaver, though, is in a class of his own: nobody's done it better."—The Evening Standard (London)
Advertisement