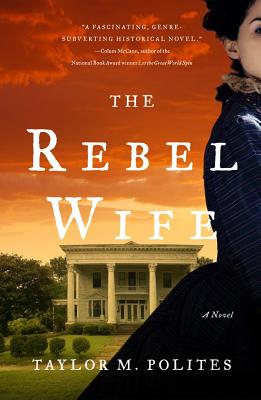 The Rebel Wife (Hardcover)
A Novel
Simon & Schuster, 9781451629514, 304pp.
Publication Date: February 7, 2012
Other Editions of This Title:
Paperback (9/4/2012)
Hardcover, Large Print (7/26/2012)
* Individual store prices may vary.
Description
Readers of The Kitchen House and A Reliable Wife will love this page-turning southern gothic novel set in Reconstruction Alabama, about a young widow whose quest for truth turns into a race for her life.

Augusta Branson, born of a prominent Southern family made destitute by the Civil War, is forced by her family into marriage with a wealthy upstart. Ten years after her marriage and the end of the war, she watches her husband, Eli, die from a horrifying blood fever.

Newly widowed, Augusta begins to wake to the realities that surround her: her social standing is stained by her marriage, she is alone and unprotected in a community that is being destroyed by racial prejudice and violence, the fortune she thought she would inherit does not exist, and the deadly blood fever is spreading like wildfire. Nothing is as she believed, everyone she trusts is hiding something from her, and if Augusta can't find a missing package, she and her son face certain death.

Using the Southern Gothic tradition to subvert literary archetypes like the white Southern Gentleman, the good Mammy, the conniving scalawag, and the defenseless Southern Belle, The Rebel Wife shatters the myths that still cling to the antebellum South and creates an unforgettable heroine for our time.
About the Author
Taylor M. Polites received an MFA in Creative Writing from Wilkes University, where he was awarded the 2009 Norris Church Mailer Fellowship. He lives in Providence, Rhode Island.
Praise For The Rebel Wife: A Novel…
"This engrossing novel about a resilient heroine in the post-Civil War South has all the drama of the era and none of the clichés."—O, The Oprah Magazine

"This is a wonderful first novel—passionate and brave. It removes the skin of an era, and questions so many of the tropes that hover around 19th century southern American literature. It was Faulkner who, in the 20th century, talked about the voice of fiction being inexhaustible. Taylor Polites has extended our narrative reach into yet another time. A fascinating, genre-subverting historical novel. "—Colum McCann, author of Let the Great World Spin

"The best historical novel is the one we forget is a historical novel . . . Taylor M. Polites pulls off just such sleight of hand in his gloriously gothic, moody post-Civil War novel, The Rebel Wife . . . an expertly packaged history lesson about the massive social and economic upheaval that was Reconstruction, where fortunes changed hands, the word 'freedom' lost its meaning, and Yankees weren't the only enemies of 'the sons and daughters of the defeated South.' . . . [S]plendidly researched . . . The Rebel Wife offers a valuable new perspective."—Atlanta Journal-Constitution


"History with a heartbeat, lovingly described and yet a true page turner."—Providence Journal


"Lithe, sophisticated . . . Highly stylized, this quick-moving, tautly crafted Southern Gothic begins to redefine the up-until-now unrelenting archetypes of Southern gentlemen, Southern belles and the Southern slaves who waited on them . . . effortlessly detailed."—Charleston Post and Courier

"[The Rebel Wife] shatters the myths that still cling to the antebellum South and creates an unforgettable heroine."—Mobile Register

"Vivid and beautiful . . . action-packed . . . An ambitious novel, one that hinges on research, insight, and decency." —The Virginian-Pilot

"Multi-layered and rich with historic detail. Refracted through the prism of one very determined woman, this gripping suspense story is about nothing less than complicated truths and harsh realities."—TucsonCitizen.com

"A richly detailed portrait of Reconstruction-era Alabama. . . . Nimble, engrossing . . . builds to a vivid climax."—Publishers Weekly


"The suspense is exquisitely honed . . . pulled back just in time to make for a wonderfully chilling—yet over-heated—read."—Booklist

"Polites draws a detailed portrait of post-war politics and sentiments."—Kirkus Reviews

"The aftermath of the Civil War—specifically, the Reconstruction era in Alabama—comes to vivid life in Taylor M. Polites' debut novel, which dispels some of the myths associated with that period of our history . . . Polites has peopled his well-researched account with an intriguing cast of characters, each of whom contributes to Gus' awakening to the postwar realities she now must face alone . . . Polites' debut is a historically accurate and compelling depiction of the postwar South, in all its divisiveness and discord."—Book Page

"Taylor Polites's The Rebel Wife is the love child of William Faulkner and Margaret Mitchell, and sister to Charlotte Perkins Gilman's 'Yellow Wallpaper.' A gripping look at Reconstruction-era Alabama through the mind of one flawed, desperate woman."—Lenore Hart, author of The Raven's Bride and Becky

"The Rebel Wife takes us to the time when one who suffered through the Civil War was left to sort through the debris in order to start again. This story hums with suspense. More great discussion for the book clubs!"—Kathleen Grissom, author of The Kitchen House

"Taylor Polites' extraordinary novel has all the qualities of a Southern Gothic but is so very much more. This brilliant new writer has taken an age-old genre and turned it on its head…In a nail-biting tour de force, Taylor Polites has brought the 1870's to life before our eyes with impeccable research and attention to detail. This is a book that exposes ancient myths, and will endure and be talked about for years to come."—Kaylie Jones, author of Lies My Mother Never Told Me

"The Rebel Wife bears comparison with Flannery O'Connor and William Faulkner's prose, with the exception that Polites cherishes few illusions about Lost Causes. The failure of Reconstruction meant the deferral of full rights for the former slaves for a full century. This stunning debut novel looks without flinching at one of the enduring shames of our American history, in prose that will linger long after you close its pages."—David Poyer, author of That Anvil of Our Souls and The Towers

"Peeling back layers of deceit and myth combined, Taylor Polites takes us into an era we barely understand. The flawed human heart that finally comes to understand 'the truth' is at the heart of this enduring, suspenseful novel."—Patti Callahan Henry, author of Coming Up for Air
or
Not Currently Available for Direct Purchase