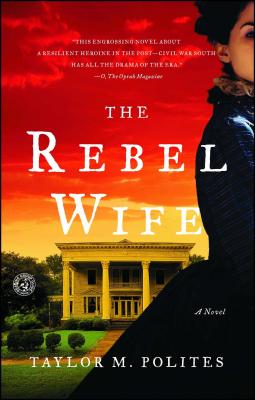 The Rebel Wife (Paperback)
A Novel
Simon & Schuster, 9781451629521, 320pp.
Publication Date: September 4, 2012
Other Editions of This Title:
Hardcover (2/7/2012)
Hardcover, Large Print (7/26/2012)
* Individual store prices may vary.
Description
This "gloriously gothic"* novel about a young widow trying to survive in the violent world of Reconstruction Alabama is "history with a heartbeat, lovingly described and yet a true page turner" (Providence Journal).

Brimming with atmosphere and edgy suspense, The Rebel Wife presents a young widow trying to survive in the violent world of Reconstruction Alabama, where the old gentility masks continuing violence fueled by hatred, treachery, and still powerful secrets.

Augusta Branson was born into antebellum Southern nobility during a time of wealth and prosperity, but now she is left standing in the ashes of a broken civilization. When her scalawag husband dies suddenly of a mysterious illness, she must fend for herself and her young son. Slowly she begins to wake to the reality of her new life: her social standing is stained by her marriage; she is alone and unprotected in a community that is being destroyed by racial prejudice and violence; the fortune she thought she would inherit does not exist; and the deadly fever that killed her husband is spreading fast.

Augusta needs someone to trust if she and her son are to escape. As she summons the courage to cross the boundaries of hate, The Rebel Wife presents an unforgettable heroine for our time.
About the Author
Taylor M. Polites received an MFA in Creative Writing from Wilkes University, where he was awarded the 2009 Norris Church Mailer Fellowship. He lives in Providence, Rhode Island.
Praise For The Rebel Wife: A Novel…
"This engrossing novel about a resilient heroine in the post-Civil War South has all the drama of the era and none of the clichés."—O, The Oprah Magazine



"This is a wonderful first novel—passionate and brave. It removes the skin of an era, and questions so many of the tropes that hover around 19th century southern American literature. It was Faulkner who, in the 20th century, talked about the voice of fiction being inexhaustible. Taylor Polites has extended our narrative reach into yet another time. A fascinating, genre-subverting historical novel. "—Colum McCann, author of Let the Great World Spin



"The best historical novel is the one we forget is a historical novel . . . Taylor M. Polites pulls off just such sleight of hand in his gloriously gothic, moody post-Civil War novel, The Rebel Wife . . . an expertly packaged history lesson about the massive social and economic upheaval that was Reconstruction, where fortunes changed hands, the word 'freedom' lost its meaning, and Yankees weren't the only enemies of 'the sons and daughters of the defeated South.' . . . [S]plendidly researched . . . The Rebel Wife offers a valuable new perspective."—Atlanta Journal-Constitution




"History with a heartbeat, lovingly described and yet a true page turner."—Providence Journal




"Lithe, sophisticated . . . Highly stylized, this quick-moving, tautly crafted Southern Gothic begins to redefine the up-until-now unrelenting archetypes of Southern gentlemen, Southern belles and the Southern slaves who waited on them . . . effortlessly detailed."—Charleston Post and Courier



"[The Rebel Wife] shatters the myths that still cling to the antebellum South and creates an unforgettable heroine."—Mobile Register



"Vivid and beautiful . . . action-packed . . . An ambitious novel, one that hinges on research, insight, and decency." —The Virginian-Pilot



"Multi-layered and rich with historic detail. Refracted through the prism of one very determined woman, this gripping suspense story is about nothing less than complicated truths and harsh realities."—TucsonCitizen.com




"A richly detailed portrait of Reconstruction-era Alabama. . . . Nimble, engrossing . . . builds to a vivid climax."—Publishers Weekly




"The suspense is exquisitely honed . . . pulled back just in time to make for a wonderfully chilling—yet over-heated—read."—Booklist
or
Not Currently Available for Direct Purchase