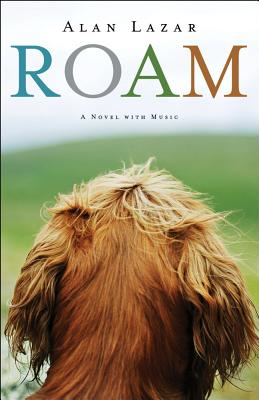 Roam
A Novel with Music
Hardcover

* Individual store prices may vary.
Other Editions of This Title:
Digital Audiobook (10/31/2011)
Paperback (8/14/2012)
Hardcover, Large Print (3/1/2012)
MP3 CD (11/1/2011)
Compact Disc (11/1/2011)
Description
A wise and heartwarming first novel about families, love lost and found, and a scrappy three-legged dog who is trying to find his way back home as Christmas approaches. Roam features a seven-part soundtrack—composed and performed by the author—accessible online and embedded in the eBook.

They say you never forget your first love . . .

Born under a sparkling crescent moon, Nelson is a bright-eyed, inquisitive half beagle, half poodle. He lives with Katey and Don, newlyweds whose marriage is straining under the pressures of domesticity, but Katey's devotion to Nelson buoys the pup even as he worries his home may be falling apart.

But there are few things Nelson likes better than to follow a scent, and one day he follows his nose and gets lost . . . very lost. Though he searches frantically for Katey—and she for him—Nelson can't seem to find his way home, and he soon realizes that if he's ever to see his great love again, he must make his way on his own and try to survive in the wild.

Over the course of eight years, Roam follows Nelson as he crosses the country searching for his family. For a time he rides shotgun with a truck driver named Thatcher, then he lives in the woods with a pack of wolves. A terrible accident takes his hind leg, but Nelson's strength and longing to find Katey keep him alive. Escaping death in a shelter, Nelson grows into an old dog with a cynical eye and a world-weary demeanor, but underneath it all, a fearless and courageous spirit. After all, he believes that one day he'll make it home . . . and maybe, just maybe, he will. . . .

Much more than the story of one dog's incredible journey, this is a deeply moving story of survival and enduring love, which once again confirms the unbreakable bond between humans and their best friends. In the tradition of The Art of Racing in the Rain and The Story of Edgar Sawtelle, Roam is an unforgettable tale of love lost and found, the trials that test families, and an affirmation that no matter how far or how long you may travel, there's always a place you can call home.
Praise For Roam: A Novel with Music…
"Musician Lazar's debut is a thoughtful portrayal of the dog's worldview, emotions, and nature, written largely from one dog's perspective and tracking his walkabout adventures across the country after his nose leads him away from his first owner and 'Great Love,' Katey…. A touching page-turner for dog lovers." —Publisher's Weekly

"I loved the curious, adventurous spirit of Nelson. ROAM shows some of the things I love most about dogs--their unconditional love, loyalty, instinct, connection to Mother Nature, and of course, their powerful noses! We can all learn and take something away from his journey." —Cesar Millan, "The Dog Whisperer"

"Alan Lazar knows dogs, and to know a dog is to love a dog. ROAM compassionately explores and celebrates the heart and mind of man's best friend and the special bond we share" —Patrick McDonnell, New York Times bestelling author of THE GIFT OF NOTHING

"With the mesmerizing simplicity of a classic silent film, ROAM tells the heart-breaking (and yes, heart-warming) story of Nelson, an adventurous and brave little dog as memorable as John Grogan's Marley, Kate DiCamillo's Winn-Dixie and even Chaplin's Little Tramp . Without a word of dialogue, Lazar tells an epic tale almost entirely from Nelson's point of view, but his canine hero's stirring quest is no different than Quixote's--a death-defying, wonder-inducing search for love." —David Frankel, director of "Marley and Me" and "The Devil Wears Prada."

"A canine version of Black Beauty." —Kirkus Reviews

"Lazar has crafted an adventure guaranteed to capture the interest of the reader—who hopes, like Nelson, that the dog will somehow make it home to Katey." —Bookpage

"Lazar's debut novel takes us on a harrowing canine journey where human beings can break the heart of a good dog---and yet the desire to live with and love humans is unquenchable." —Jacqueline Sheehan, NY Times bestselling author of Lost & Found

"Incredible journeys are a perennially popular subset of dog stories…and Lazar crafts a good one. He captures the interior and exterior lives of humans and dogs (and even wolves) with a sure hand." —Library Journal

"A sweet but simple tale, Lazar's novel will appeal to animal lovers nostalgic for the stories of their youth." —Booklist
Atria Books, 9781451632903, 336pp.
Publication Date: November 1, 2011
About the Author
Alan Lazar is a platinum-selling musician/composer whose career began in his native South Africa. He lives in Los Angeles, where he has composed music for more than 30 films and TV shows. This is his first novel.
or
Not Currently Available for Direct Purchase