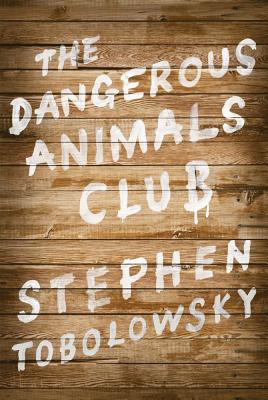 The Dangerous Animals Club (Hardcover)
Simon & Schuster, 9781451633153, 338pp.
Publication Date: September 25, 2012
* Individual store prices may vary.
Description
From legendary character actor Stephen Tobolowsky, comes a collection of memoiristic pieces about life, love, acting, and adventure, told with a beguiling voice and an uncommon talent for storytelling. The Dangerous Animals Club by Stephen Tobolowsky is a series of stories that form a non-linear autobiography. Each story stands on its own, and yet there are larger interconnecting narratives that weave together from the book's beginning to end. The stories have heroics and embarrassments, riotous humor and pathos, characters that range from Bubbles the Pigmy Hippo to Stephen's unforgettable mother, and scenes that include coke-fueled parties, Hollywood sets, French trains, and hospital rooms. Told in a vivid, honest, and wondrous voice, Tobolowsky manages to render the majestic out of the seemingly mundane, profundity from the patently absurd, and grace from tragedy. This book marks the debut of a massively talented storyteller.
About the Author
The quintessential character actor, Stephen Tobolowsky has appeared in more than 100 movies and more than 200 television shows in his career (USA TODAY recently noted that he was the ninth most frequently seen actor in film today). Along the way his roles have spanned almost all aspects of being a working actor, from the big-budget and Oscar Award-worthy (as head of the Ku Klux Klan in Mississippi Burning), to the cult phenomenon (Groundhog Day), to the buzzworthy (Glee). But despite a lifetime devotion to the craft of acting that also includes a classical theater training and a Tony Award nomination, you probably wouldn't recognize him if you saw him on the street. He lives in Los Angeles.
Praise For The Dangerous Animals Club…
"Stephen Tobolowsky has found his true calling as a storyteller. He is candid, insightful, often profound, and very, very funny, especially when he recounts his adventures in show business. By blending sharp memories of his childhood with astute, adult observations of the world around him, he weaves a spell not unlike Jean Shepherd or Garrison Keillor… but he has a voice all his own, and I love it."—Leonard Maltin, film critic and author



"Here are some of the dangerous animals you will meet in Stephen Tobolowsky's wise, funny memoir: rattlesnakes, tarantulas, talking dogs, attic raccoons, and Hollywood agents. What a pleasure it is to learn that one of the movies' most interesting character actors is also one of its most interesting characters."—Ken Jennings, author of Maphead and Brainiac



"No one spins yarns and knits them into a lyrical fabric of self like Tobolowsky: deep, warm and a little itchy but you love it."—Marc Maron, host of WTF with Marc Maron



"You know those imaginary dinner parties where you get to invite any five people from history for an evening of amazing conversation? This book is the reason Stephen Tobolowsky has always been one of my five. He is a raconteur of the first order, and I think an evening with Beethoven, Abe Lincoln, and Winston Churchill would be made ever more fascinating for his inclusion. But it's not just that his stories are compulsively entertaining. It's that they resound with insight and revelation. Tobolowsky's stories make me glad I'm alive. And they make me want to throw a dinner party every night."—Jim Beaver, actor in Deadwood and Supernatural and author of Life's That Way



"You already know Stephen Tobolowsky as an actor—his face, if not his name—but in The Dangerous Animals Club he opens his heart, soul and mind to you, along with a lot of belly laughs. He is a modern-day Job in his pursuit of an acting career, or maybe just a meaningful life. The odds seem stacked against him. And yet now, in the middle of his life, it is all within his grasp. Read this book and rejoice!"—Elizabeth Forsythe Hailey, author of A Woman of Independent Means



"Funny, highly original, and quirky. Stephen Tobolowsky has written a memoir that is almost as enchanting and lovable as he is. Bravo!"—Linda Bloodworth Thomason



"Hard to find a guy in Hollywood whose colossal loyalty stands right up their with his colossal talent. Now I see what shaped it all. A great book from an uncommon man!"—Harry Thomason



"The actor has plenty of rich material to mine—he has been held hostage at gunpoint by a lunatic, suffered an apocalyptic infestation of fleas, barely eluded a goring by a bull, and auditioned with a broken neck—but the delight of the book is the author's voice: wry, discursive and full of generous spirit and curiosity […] A copiously examined life rendered with humor and heart." — Kirkus, Starred Review



"Stories that are quirky, funny and sentimental." — Publishers Weekly


Praise for Stephen Tobolowsky's work:
"These stories are about life, and about love, and about finding inspiration in anything, and they are told with enthusiasm, and optimism, and joy for life. I hate to sound like I'm overselling it, but I think anyone who has listened to a The Tobolowsky Files will agree: They are a goddamn pleasure."—Dustin Rowles
"The Citizen Kane of podcasts."—DC Pierson of Derrick Comedy
"I LOVE THIS!"—Sarah Silverman
"Great storytelling, beautiful stuff."—Rian Johnson, director of The Brothers Bloom and Brick
or
Not Currently Available for Direct Purchase