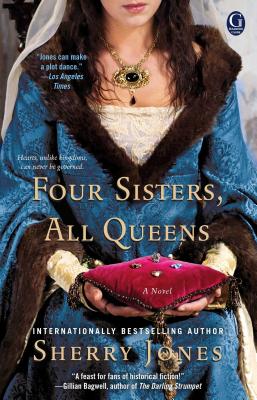 Four Sisters, All Queens
Paperback

* Individual store prices may vary.
Description
Rich in intrigue and scheming, love and lust, Sherry Jones's vibrant historical novel follows four women destined to sway the fate of nations and the hearts of kings... Amid the lush valleys and fragrant wildflowers of Provence, Marguerite, El onore, Sanchia, and Beatrice have learned to charm, hunt, dance, and debate under the careful tutelage of their ambitious mother--and to abide by the countess's motto: "Family comes first." With Provence under constant attack, their legacy and safety depend upon powerful alliances. Marguerite's illustrious match with the young King Louis IX makes her Queen of France. Soon El onore--independent and daring--is betrothed to Henry III of England. In turn, shy, devout Sanchia and tempestuous Beatrice wed noblemen who will also make them queens. Yet a crown is no guarantee of protection. Enemies are everywhere, from Marguerite's duplicitous mother-in-law to vengeful lovers and land-hungry barons. Then there are the dangers that come from within, as loyalty succumbs to bitter sibling rivalry, and sister is pitted against sister for the prize each believes is rightfully hers--Provence itself.
From the treacherous courts of France and England, to the bloody tumult of the Crusades, Sherry Jones traces the extraordinary true story of four fascinating sisters whose passions, conquests, and progeny shaped the course of history.
Praise For Four Sisters, All Queens…
"Entertaining...Fans of historical fiction about European royalty should enjoy this well-written novel set during fascinating times. The relationship among the sisters is believable and often heartbreaking." --Library Journal



"Jones's impeccable eye for detail and beautifully layered plot...makes this not only a standout historical, but an impressive novel in its own right, regardless of genre." --Publishers Weekly


Four Sisters, All Queens draws the reader into the intrigue and drama of the courts of 13th century Europe, delightfully evoking the rich details and vivid personalities of a fascinating era. A feast for fans of historical fiction!" --Gillian Bagwell, author of The Darling Strumpet and The September Queen



"Sherry Jones bursts onto the medieval scene with this enthralling tale of four royal sisters vying for power. Engrossing and vividly rendered, the intrigue and splendor of 13th century Europe are brought to life through the voices of these disparate women, each destined to take the throne and find herself in a dangerous struggle for dominance against her own kin. Family politics, forbidden passion, and heartbreaking sacrifice create a mesmerizing tableau of what it meant to be a queen." --C.W. Gortner, author of The Confessions of Catherine de Medici 



"A lively, entertaining tableau that evokes the complexities of court life in thirteenth-century Provence, France, and England as seen through the eyes of four remarkable women." --Mitchell James Kaplan, author of By Fire, By Water




"Sherry Jones brings medieval Europe to life through the extraordinary destinies of the "ladies of Provence." Queens, sisters, rivals... What a tale!"
--Catherine Delors, author of Mistress of the Revolution and For the King



"In Four Sisters, All Queens, Sherry Jones tells an extraordinary story of four extraordinary women, all with royal destinies. In elegant but lively prose, she brings their triumphs and struggles to life."--Susan Higginbotham, author of Her Highness, the Traitor



"The power of these four sisters, these intriguing women, commands every page as does Sherry Jones's exquisite and well-crafted narrative. Their particular experiences, so finely conveyed, offers a distinct glimpse into the full landscape of thirteenth century Europe and the influence of its women."--Donna Russo Morin, author of The King's Agent
Gallery Books, 9781451633245, 434pp.
Publication Date: May 8, 2012
About the Author
Author and journalist Sherry Jones is best known for her international bestseller The Jewel of Medina. She is also the author of The Sword of Medina, Four Sisters, All Queens, The Sharp Hook of Love, and the novella White Heart. She lives in Spokane, WA, where, like Josephine Baker, she enjoys dancing, singing, eating, advocating for equality, and drinking champagne. Visit her online at AuthorSherryJones.com and at Facebook.com/SherryJonesFanpage
Book Videos