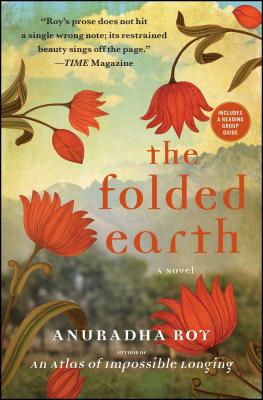 The Folded Earth (Paperback)
Free Press, 9781451633337, 269pp.
Publication Date: April 24, 2012
Description
From the widely acclaimed author of An Atlas of Impossible Longing, a powerful and triumphantly beautiful novel set in contemporary India, about a young woman forging a new life in the foothills of the Himalayas. LONGLISTED FOR THE 2011 MAN ASIAN LITERARY PRIZE SHORTLISTED FOR THE HINDU LITERARY PRIZE FOR BEST FICTION 2011 WITH HER DEBUT NOVEL, An Atlas of Impossible Longing, Anuradha Roy's exquisite storytelling instantly won readers' hearts around the world, and the novel was named one of the best books of the year by The Washington Post and The Seattle Times. Now, Roy has returned with another masterpiece that is already earning international prize attention, an evocative and deeply moving tale of a young woman making a new life for herself amid the foothills of the Himalaya. Desperate to leave a private tragedy behind, Maya abandons herself to the rhythms of the little village, where people coexist peacefully with nature. But all is not as it seems, and she soon learns that no refuge is remote enough to keep out the modern world. When power-hungry politicians threaten her beloved mountain community, Maya finds herself caught between the life she left behind and the new home she is determined to protect. Elegiac, witty, and profound by turns, and with a tender love story at its core, The Folded Earth brims with the same genius and love of language that made An Atlas of Impossible Longing an international success and confirms Anuradha Roy as a major new literary talent.
About the Author
Anuradha Roy is the author of An Atlas of Impossible Longing, which has been published in sixteen countries and named by World Literature Today as one of the sixty most essential books on modern India. She lives in India.
Praise For The Folded Earth…
Winner of The Economist Crossword Fiction Award 2011
"How does a writer compete against the media's invasion of public discourse in all its chattering, hectoring, commercially packaged format. One way could be by creating a small, inviolable space in which to observe and record all the subterranean upheavals to create those moments of clarity that we value as literature. The small diamond that we have unearthed and enjoyed is called The Folded Earth."

-The Economist Crossword Fiction Award Committee

International Praise for The Folded Earth:
"[Roy's] narrative is poised and her language precise and poetic, without being flamboyant . . . a story about love and hate, continuity and change, loss and grief in a convincing and memorable setting."
—The Independent
"Anuradha's ability to seamlessly place the private lives of her characters within a larger socio-political setting is what she carries into her second book [as well] . . . at the end of The Folded Earth you feel a firm belief in the redemptive qualities of life and love."



"A gently perceptive story, half comic and half poignant, of a woman's struggle to forget her sorrows in new surroundings."
—The Sunday Times
"Tight with life. . . .Roy's attention to individual words pays off as she conveys the full texture of experiences. . . . Even minor characters are evoked with inventive idiosyncrasy."



"The Folded Earth is pure pleasure, that old fashioned sort of novel in which one can immerse oneself; an absolute treat."
—Business World
"Eminently readable, a literary novel that feels timeless and authentic."



"Roy has an admirably restrained style and her novel offers a vivid evocation of North India. She conjures up striking images with the lightest of touches."
—The Tatler
"A jewel of a story."



"[A] deeply unsettling but beautiful novel . . . utterly enrapturing. . . . As always, Roy's writing remains gently poignant and metaphoric throughout, every vignette and scenario she constructs feels multilayered and deeply meaningful."
—For Books' Sake
"A perfect treat . . . Roy brings her characters vividly and amusingly to life."



"There is a gentle perfection to the way Roy writes. . . . A beautiful love story. . . . about people who love and long—impossibly?—and love again."
—The Hindu
"Anuradha Roy's second novel demands that the reader pause, slow down, savour this work. . . . I hear echoes of Anita Brookner and Edna O'Brien and other writers like them as Roy brings Maya and her travails to life."



"A book you will hold close to your heart long after the last page is turned." —First City Magazine


Praise for An Atlas of Impossible Longing by Anuradha Roy:
"Every once in a great while, a novel comes along to remind you why you rummage through shelves in the first place. . . . [A]s you slip into the book's pages, you sense you are entering a singular creation. . . . And then, suddenly, you are swept away. . . . This, you think, is the feeling you had as you read Great Expectations or Sophie's Choice or The Kite Runner. This is why you read fiction at all."



"Roy's prose does not hit a single wrong note: its restrained beauty sings off the page." —Neel Mukherjee, Time Magazine
Advertisement