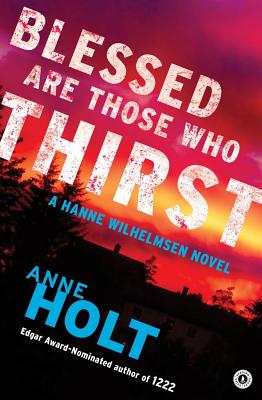 Blessed Are Those Who Thirst (Paperback)
Hanne Wilhelmsen Book Two (Hanne Wilhelmsen Novels)
Scribner Book Company, 9781451634785, 211pp.
Publication Date: December 18, 2012
Other Editions of This Title:
Digital Audiobook (4/30/2013)
Compact Disc (5/1/2013)
Compact Disc (5/1/2013)
MP3 CD (5/1/2013)
Hardcover, Large Print (7/10/2013)
* Individual store prices may vary.
Description
The second book in Edgar-nominated Anne Holt's international bestselling mystery series featuring detective Hanne Wilhelmsen, last seen in Blind Goddess. IT is only the beginning of May but in Oslo a brutal heat wave has coincided with an alarming increase in violent crime. In the latest instance, police investigator Hanne Wilhelmsen is sent to a macabre crime scene on the outskirts of town. An abandoned shed is covered in blood. On one wall an eight-digit number is written in blood. There is no body--nor any sign of a victim. Is it a kid's prank or foul play? Is it even human blood? As more bloody numbers are found in isolated locations throughout Oslo, Hanne's colleague H kon Sand makes a startling discovery: the digits correspond to the filing numbers of foreign immigrants. All are female, all are missing. Is there a serial killer on the loose in Oslo? How does the killer have access to immigrant data? Meanwhile, as the trail heats up, the victim of a horrific unsolved rape case and her father have each decided to take justice into their own hands. Hanne and H kon soon discover that they aren't the only ones on the hunt for the killer.
Praise For Blessed Are Those Who Thirst: Hanne Wilhelmsen Book Two (Hanne Wilhelmsen Novels)…
"Anne Holt is the godmother of modern Norwegian crime fiction."--Jo Nesbø



"Holt proves a masterful plotter. Unexpected twists hold up to scrutiny, loose ends are tied up and the finale leaves readers wanting more."—Cleveland Plain Dealer



"A good old-fashioned mystery."—Pittsburgh Post-Gazette



"A sympathetic lead distinguishes Holt's second novel."



"Move over, Jo Nesbo."



"A perfect entry point into Scandinavian crime.... A sure pleasure for police-procedural fans who read everything from Slaughter to Nesbo."



"Fast-paced and involving.... Holt knows psychology as well as she knows the ins and outs of police-work. She quickly draws the reader into the minds and lives of half a dozen disparate characters—none more interesting than Inspector Wilhelmsen herself... Holt's visions of societal and ethical decay are balanced by glimpses of great poignancy, human consolation and love."

-Tom Nolan


"Expertly translated forAmerican readers by the highly capable Anne Bruce… A wonderful combination ofold-school police procedure and amateur detective work…. Holt is a master ofbalancing criminal procedure with suspense…. This is a series that demands tobe read, and the more quickly the better."