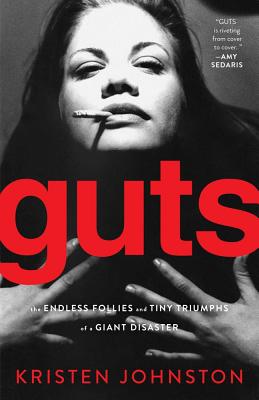 Guts: The Endless Follies and Tiny Triumphs of a Giant Disaster (Hardcover)
The Endless Follies and Tiny Triumphs of a Giant Disaster
Gallery Books, 9781451635058, 277pp.
Publication Date: March 13, 2012
Description
The two-time Emmy Award winner presents a harrowing, hysterical, and beautifully written memoir as frank and revealing as Augusten Burroughs--with the humor and wit of David Sedaris. "It felt like I was speeding on the Autobahn toward hell, trapped inside a DeLorean with no brakes. And even if I could somehow stop, I'd still be screwed, because there's no way I'd ever be able to figure out how to open those insane, cocaine-designed doors." The two-time Emmy Award-winning actress has written her first book, a surprisingly raw and triumphant memoir that is outrageous, moving, sweet, tragic, and heartbreakingly honest. GUTS is a true triumph--a memoir that manages to be as frank and revealing as Augusten Burroughs, yet as hilarious and witty as David Sedaris. With GUTS, Johnston takes us on a journey so truthful and relatable, so remarkably fresh, it promises to stay with the reader for a long, long time.
About the Author
Kristen Johnston is a two-time Emmy Award-winning stage, film, and television actress, most famous for her role as Sally Solomon in the television series 3rd Rock from the Sun. She also starred in numerous TV shows, films, and plays.
Advertisement