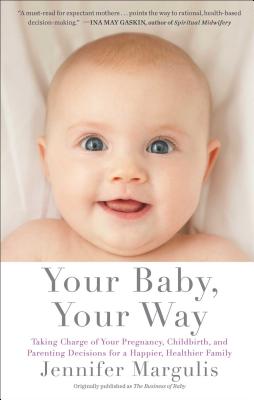 Your Baby, Your Way
Taking Charge of your Pregnancy, Childbirth, and Parenting Decisions for a Happier, Healthier Family
Paperback

* Individual store prices may vary.
Other Editions of This Title:
Hardcover (4/16/2013)
Description
A finalist for a Books for a Better Life Award, this eye-opening, must-read book arms parents with the information they need to make informed decisions about their own health and the health of their babies.

In Your Baby, Your Way award-winning journalist Jennifer Margulis explores our current cultural practices during pregnancy, childbirth, and the first year of a baby's life, challenges advice given to new mothers, and encourages parents to question what they're told about prenatal and infant care. Margulis explains how financial interests often skew the treatment we give to mothers and infants, investigating topics such as:

· How the diaper industry perpetuates delays in potty training
· Why cesareans are increasingly prevalent
· Why more women don't breastfeed

Based on meticulous research and in-depth interviews with parents, doctors, midwives, nurses, health care administrators, and scientists, Margulis's impassioned and eloquent critique is shocking, groundbreaking, empowering, and revelatory. Going beyond the advice in the What to Expect books, Your Baby, Your Way inspires and empowers, helping couples have a happier, healthier pregnancy and childbirth, and "motivates women to ask 'why?' before blindly agreeing to everything their doctor orders" (Booklist).
Praise For Your Baby, Your Way: Taking Charge of your Pregnancy, Childbirth, and Parenting Decisions for a Happier, Healthier Family…
"Pregnancy and childbirth are wildly vulnerable times, and one is desperate to put one's faith in the doctor. Jennifer Margulis reveals why that trust is sometimes misplaced, and helps us to make wise choices when the stakes are high. This is a must-read book for parents and parents-to-be,and for the medical professionals who care for us."
— Harriet Lerner, Ph.D.

"A new mother's first instinct is to protect her newborn. But how can she best do that in a consumer culture so focused on its bottom line? The Business of Baby exposes some hard and shocking facts about how even the most well-meaning American parents unwittingly buy into systems that do documented harm. Thought-provoking and exhaustively researched, this book is destined to inspire much-needed dialogue about the current American way of birthing and caring for our young."
— Hope Edelman

"Jennifer Margulis's searing and well-researched exposé is a must-read for expectant mothers. Whether she is discussing common obstetric practices, circumcision, vaccination, breastfeeding, bottlefeeding, diapering, or choosing a pediatrician, she points the way to rational, health-based decision-making."
— Ina May Gaskin

"Worthy of close consideration by parents."
— Kirkus

"A must-read for expectant mothers... points the way to rational, health-based decision-making."
— Ina May Gaskin, author of Spiritual Midwifery

"The most ambitious and best documented popular book about the American way of birth and infant care I have ever seen."
— Norma Swenson, M.P.H. founding co-author, Our Bodies, Ourselves and lecturer, Harvard University, School of Public Health
Scribner, 9781451636093, 368pp.
Publication Date: March 17, 2015
About the Author
Jennifer Margulis, PhD, is an award-winning journalist and Fulbright grantee. Her work has been published in The New York Times; The Washington Post; O, The Oprah Magazine; Parents; Parenting; Brain, Child; Mothering Magazine; More Magazine and on the cover of Smithsonian. A Boston native, she lives in Ashland, Oregon with her husband and four children.