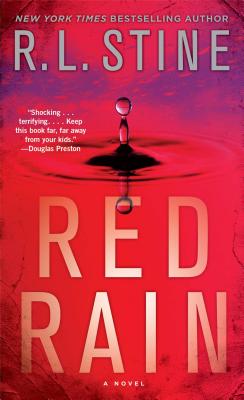 Red Rain (Mass Market)
A Novel
Pocket Books, 9781451636130, 448pp.
Publication Date: August 27, 2013
* Individual store prices may vary.
Description
The New York Times bestselling author of the Goosebumps and Fear Street series delivers a terrifying horror novel for adults centered on a town in the grip of a sinister revolt.

After travel writer Lea Sutter barely survives a merciless hurricane on a tiny island off the South Carolina coast, she impulsively brings two orphaned twin boys home with her to Long Island. Samuel and Daniel seem amiable and intensely grateful at first, but no one in Lea's family anticipates the twins' true evil nature—or predicts that within a few weeks' time her husband, a controversial child psychologist, will be implicated in two brutal murders.

"The horror is grisly" (Associated Press) in legendary author R.L. Stine's "creepy, fun read" (Library Journal)—an homage to the millions of adult fans who grew up reading his classic series and a must-read for every fan of deviously inventive chillers.
About the Author
R.L. Stine invented the teen horror genre with Fear Street, the bestselling teen horror series of all time. He also changed the face of children's publishing with the mega-successful Goosebumps series, which Guinness World Records cites as the Bestselling Children's Books ever, and went on to become a worldwide multimedia phenomenon. He lives in New York City with his wife, Jane, and their dog, Nadine.
Praise For Red Rain: A Novel…
"I picked up R.L. Stine's RED RAIN and for the life of me couldn't put it down. From the opening scene—which is plenty shocking—a terrifying and original story unspools that draws the reader in like a moth to flame. The suspense builds to the breaking point and goes beyond... and beyond. This is a sophisticated thriller with real characters, crisp writing, and a wicked sense of humor. Keep this book far, far away from your kids."
— Douglas Preston

"Come on! There's simply no need to frighten somebody that much. But what else should we expect from the undisputed master of fear. R.L. Stine is a name synonymous with excellence. He's made a career out of scaring children. Now he's turned his attention to adults in a dark, all-too-real-tale, that brings the unimaginable to life. Make sure the doors are locked and all of the lights are on in the house before you open this one up."
— Steve Berry

"This is the moment I've been terrified of -- when R.L. Stine decided he wasn't just going to scare children, but that he would focus his power on frightening the rest of us. Ready to be haunted by the master? RED RAIN proves he's got nightmares for us all."
— Brad Meltzer

"Leave the light on and the door locked. R.L. Stine is now scaring the bejeezus out of grown-ups. RED RAIN will put goose bumps on even the toughest adult."
— Kathy Reichs

"RED RAIN is a slam-bang, stay-up-all-night, leave-the-lights-on thriller. R.L. Stine has scared kids for years. Now it's our turn..."
— Harlan Coben
or
Not Currently Available for Direct Purchase