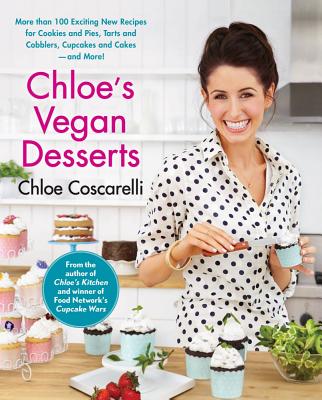 Chloe's Vegan Desserts
More than 100 Exciting New Recipes for Cookies and Pies, Tarts and Cobblers, Cupcakes and Cakes--and More!
Paperback

* Individual store prices may vary.
Description
Chef Chloe, the first vegan winner of Cupcake Wars, brings her signature creativity and fun to the best part of every meal: Dessert!

CHEF CHLOE'S first all-dessert cookbook, Chloe's Vegan Desserts, will satisfy your sweet tooth from morning to night with more than 100 recipes for cakes and cupcakes, ice cream and doughnuts and pies—oh my! And you just will not believe these delicious dishes are vegan.

You can start the day with New York–Style Crumb Cake, light and zesty Lemon Poppy Seed Muffins, luscious Chocolate Babka, or decadent Tiramisu Pancakes (topped with a dollop of cool Coconut Whipped Cream). Here, too, are more than a dozen inventive, innovative, irresistible cupcake recipes, including Chloe's Cupcake Wars' Award-Winning Chocolate Orange Cupcakes with Candied Orange Peel, saffron- and cardamom-spiced Bollywood Cupcakes, and rich and boozy Chocolate Beer Cupcakes with Irish Whiskey Buttercream.

Chloe's got you covered for the holidays with her Easy Apple Pie and Absolutely Perfect Pumpkin Pie, Holiday Trifle, Nuts for Hot Cocoa, and Pumpkin Spice Latte. She re-creates classic desserts and treats from Chocolate Chip Cookies to Classic Crème Brûlée, and veganizes store-bought favorites with her Oreo-style Chloe O's, Pumpkin Whoopie Pies, Animal Cookies, and Black-and-White Cookies—which are better (and healthier) than what you'll find at the grocery store. Chloe also serves up brand-new triumphs like her dreamy Lemon Olive-Oil Cake, Rosemary Ice Cream with Blueberry Sauce, Coconut Cream Pie, Chocolate Cream Pie, Coconut Sorbet with Cashew Brittle, and good-to-the-last-drop milkshakes. Who can possibly resist?

Go ahead and lick that spoon—there are no worries when you bake vegan! With gorgeous color photography, clever tips, and a comprehensive section on vegan baking basics to get you started, Chloe's Vegan Desserts will be your new vegan dessert bible.
Praise For Chloe's Vegan Desserts: More than 100 Exciting New Recipes for Cookies and Pies, Tarts and Cobblers, Cupcakes and Cakes--and More!…
"It's hard not to get excited when reading Chloe's Kitchen. Coscarelli's enthusiasm for vegan cooking is wildly apparent and extremely contagious. Packed with creative and wholesome recipes, Chloe's Kitchen delivers inspired vegan fare in a beautiful, sleek volume guaranteed to get readers salivating."
— Portland Book Review

"Coscarelli's contagious enthusiasm and full-flavored recipes will appeal to readers who are considering going vegan but aren't sure if they're ready....Appetizing recipes emphasize taste."
— Library Journal

"A cavalcade of easy meatless recipes and culinary notions. The first vegan chef ever to win a Food Network competition, Coscarelli shares her wealth of knowledge on plant-based cuisine with marked enthusiasm...Refreshingly uncomplicated...mouthwatering offerings...varied recipes... Coscarelli's sleek volume is crisply photographed and includes the kind of straightforward, go-to recipes busy foodies can appreciate."
— Kirkus

"Accessible....welcome surprises. Coscarelli's focus is comfort food, and she reboots classic meat and dairy dishes with plant-based formulas. A good choice for the newly converted looking to replace their nonvegan favorites."
— Publishers Weekly

"Glamorously laid out with sleek, shiny pages of vegan goodies that will make even the most skeptical omnivore look at vegan food in a whole new light... If you're in the market for a book that will stand up proudly next to books by Giada De Laurentiis and Ina Garten, get Chloe's Kitchen. You're bound to be entertained!"
— manifestvegan.com
Atria Books, 9781451636765, 272pp.
Publication Date: February 19, 2013
About the Author
Chloe Coscarelli recently took home first place in the Food Network's Cupcake Wars, making her the first vegan ever to win on a Food Network competition. Chloe is a graduate of the Natural Gourmet Institute of Health and Culinary Arts NYC and the University of California, Berkeley. She has also completed Cornell University's Plant-Based Nutrition program based on Dr. T. Colin Campbell's The China Study. She lives in Los Angeles.