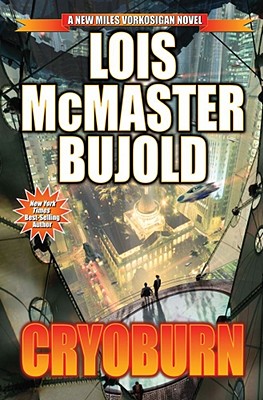 Cryoburn (Vorkosigan Saga #13) (Mass Market)
Baen, 9781451637502, 448pp.
Publication Date: September 27, 2011
Other Editions of This Title:
Digital Audiobook (10/18/2010)
Hardcover (10/19/2010)
Compact Disc (10/19/2010)
Pre-Recorded Audio Player (1/1/2011)
MP3 CD (10/19/2010)
Compact Disc (10/19/2010)
Audio Cassette (10/1/2010)
Hardcover (1/1/2010)
* Individual store prices may vary.
Description
A New York Times hardcover bestseller, this is the long-awaited NEW installment in the hugely-popular, award-winning science fiction adventure series. Miles Vorkosigan, troubleshooter for the Barrayaran Galactic Empire, takes on the corrupt and dangerous ruling elite of a world where immortality is a commodity to be bought, sold and bartered for power.

Kibou-daini is a planet obsessed with cheating death. All well and good, so long as they kept to themselves. But now the Kibou-daini are attempting to franchise out their Fountain of Youth wares to the rest of the galaxy and the Barrayar Galactic Empire is none too pleased with the implications.

Cue Miles Vorkosigan, malformed royal troublemaker—but also heir and savior of empire. On Kibou-daini, Miles unearths a war of generations as the oldsters in charge refuse to die and their descendants threaten outright patricide, matricide and maybe even genocide—the prize being a big fat slice of the immortality pie. Bribery, corruption, conspiracy, kidnapping–something is rotten on Kibou-daini, and Miles is up to his neck in trouble and adventure once more.

About Cryoburn:
"Fans have been clamoring for Hugo winner Bujold to pen a new Vorkosigan Saga novel. . . her deft and absorbing writing easily corrals the complex plot."—Publishers Weekly

About Lois McMaster Bujold's Vorkosigan Saga:
"Bujold mixes quirky humor with action [and] superb character development…[E]normously satisfying."—Publishers Weekly.

"One of sf's outstanding talents . . . an outstanding series."—Booklist

". . . an intelligent, well-crafted and thoroughly satisfying blend of adventure, sociopolitical commentary, scientific experiments, and occasional perils . . . with that extra spicing of romance. . . ."—Locus

About Vorkosigan series entry Diplomatic Immunity:
"Bujold is adept at world-building and provides a witty, character-centered plot, full of exquisite grace notes. . . fans will be thoroughly gripped and likely to finish the book in a single sitting."—Publishers Weekly
About the Author
A science fiction legend, Lois McMaster Bujold has won six Hugo Awards and three Nebula Awards. Her Miles Vorkosigan saga is a hugely-popular science fiction mainstay with multiple New York Times bestsellers including previous entry, Diplomatic Immunity. The mother of two, Ms. Bujold lives in Minneapolis.