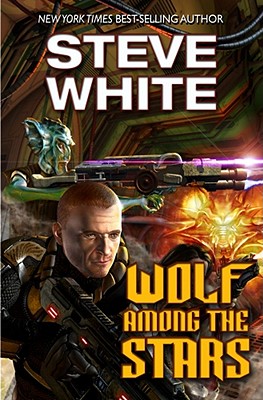 Wolf Among the Stars
Hardcover

* Individual store prices may vary.
Other Editions of This Title:
Mass Market Paperbound (9/25/2012)
Description
Sequel to Eagle Against the Stars. With Earth recently emerged from alien domination, a space-naval officer uncovers a human-alien conspiracy to involve Earth is a deadly war for galactic empire that would destroy Earth's fragile democracy. New York Times best-seller (with David Weber) and action-adventure science fiction stalwart Steve White returns with a rousing tale of adventure and space warfare in the near future. A near-future Earth has shaken off the devastating colonization by alien Lokaran invaders and totalitarian rule by the alien's puppets, the Earth First party. But now Earth is flung into galactic intrigue and war. The Lokaron empire teeters on the edge of a fratricidal meltdown and a cabal of ancient enemies hope to use Earth as a proxy to destroy the empire and rule over a new Galactic Dark Age. Now Captain Andrew Roark, the son of heroes of the rebellion and an officer trained in Lokaran space warfare tactics, joins with a highly capable Lokar who opposes the empire but wishes to see it transformed rather than destroyed. Together they must uncover a conspiracy to control Earth, and then obtain the secret key to defeating it. War for galactic control looms, and freedom for Earth--so recently escaped from under the boot-heel of one oppressor--is once again in the balance. About Steve White:
"White offers fast action and historically informed world-building."--Publishers Weekly About Steve White's Forge of the Titans
." . . recalls the best of the John Campbell era of SF. White's core audience of hard SF fans will be pleased. . ."--Publishers Weekly ." . .engaging entertainment. . .much suspense and many well-handled action scenes. . ."--Booklist About Steve White's St. Anthony's Fire:
"Give this one high marks for entertainment."--Booklist
Baen Books, 9781451637540, 245pp.
Publication Date: November 1, 2011
About the Author
Steve White completed a tour of duty in Vietnam as a naval officer. With David Weber, he has collaborated on Insurrection, Crusade, In Death Ground, and the New York Times best seller The Shiva Option. His most recent books for Baen were the epic fantasy Demon's Gate and the science fiction adventure novel Blood of the Heroes.
or
Not Currently Available for Direct Purchase