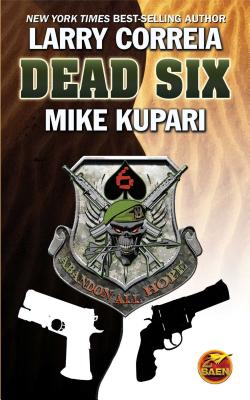 Dead Six (Mass Market Paperbound)
Baen, 9781451637588, 736pp.
Publication Date: September 27, 2011
* Individual store prices may vary.
Description
From the author of the New York Times bestselling Monster Hunter series and an Air Force weapons expert, a nonstop action, edge-of-your-seat military-political thriller in a dangerous Middle Eastern setting complete with a compelling double-viewpoint twist to pull readers along to the very last page. Michael Valentine, veteran and former member of an elite private military company, has been recruited by the government to conduct a secret counter-terror operation in the Persian Gulf nation of Zubara. The unit is called Dead Six. Their mission is to take the fight to the enemy and not get caught. Lorenzo, assassin and thief extraordinaire, is being blackmailed by the world's most vicious crime lord. His team has to infiltrate the Zubaran terrorist network and pull off an impossible heist or his family will die. When Dead Six compromises his objective, Lorenzo has a new job: Find and kill Valentine. As allegiances are betrayed and the nation descends into a bloody civil war, Lorenzo and Valentine must face off. Two men. Two missions. Only one will win. About Larry Correia's Monster Hunter series
" A] no-holds-barred all-out page turner that is part science fiction, part horror, and an absolute blast to read."--Bookreporter.com "If you love monsters and action, you'll love this book. If you love guns, you'll love this book. If you love fantasy, and especially horror fantasy, you'll love this book."--Knotclan.com "A gun person who likes science fiction--or, heck, anyone who likes science fiction--will enjoy these books]...The plotting is excellent, and Correia makes you care about the characters...I read both books without putting them down except for work...so whaddaya waitin' for? Go and buy some...for yourself and for stocking stuffers."--Mayad Ayoob About Larry Correia's Monster Hunter Vendetta:
"This lighthearted, testosterone-soaked sequel to 2009's Monster Hunter International will delight fans of action horror with elaborate weaponry, hand-to-hand combat, disgusting monsters, and an endless stream of blood and body parts."--Publishers Weekly
About the Author
Larry Correia is the New York Times best-selling creator of the Monster Hunter contemporary fantasy noir series, as well as breakout urban fantasy series the Grimnoir Chronicles. Correia is an award-winning competitive shooter, a movie-prop-gun master and an accountant by day - but an urban noir adventure master by night. He is very bald and lives in Utah. An Explosive Ordnance Disposal Technician in the US Air Force, Mike Kupari also served six years in the Army National Guard. He grew up in Michigan's Upper Peninsula and enlisted at the age of seventeen. He has worked as a security contractor with several firms, did a tour in Southwest Asia with a private military company, and is an NRA certified firearms instructor. Mike currently resides in Utah with his iguana.