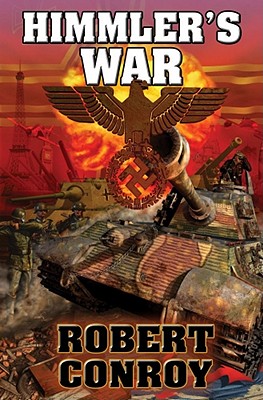 Himmler's War
Hardcover

* Individual store prices may vary.
Other Editions of This Title:
Digital Audiobook (4/19/2012)
Mass Market (10/30/2012)
Description
Popular WW II era author delivers another stunning "what if" alternate history with Hitler out of the picture and Himmler in charge of a resurgent German war machine. By the author of breakout WW II alternate history game-changer, 1945. Only days after Normandy, Hitler is taken out of the equation and Heinrich Himmler, brutal head of the SS, assumes control of the Reich. On the Allied side, there is confusion. Should attempts be made to negotiate with the new government or should unconditional surrender still be the only option? With the specter of a German super-weapon moving closer to completion and the German generals finally allowed to fight the kind of war at which they are masters, the allies are pushed toward a course of accommodation or even defeat. Will the soldiers of the Grand Alliance find the courage and conviction to fight on in the face of such daunting odds? And can alliance leaders put into place a new plan in time to snatch victory from the jaws of defeat by the German war machine? A new and terrible battle for a free world is on. About Red Inferno: 1945
"An ensemble cast of fictional characters. . . and historical figures powers the meticulously researched story line with diverse accounts of the horrors of war, making this an appealing read for fans of history and alternate history alike."--Publishers Weekly " E]ngrossing and grimly plausible. . .the suspense holds up literally to the last page."--Booklist About 1945:
" moving and thought-provoking. . ."--Publishers Weekly "Realistic. . ."--Booklist About 1942:
". . .fans of Tom Clancy and Agent Jack Bauer should find a lot to like here."--Publishers Weekly "A significant writer of alternate history turns here to the popular topic of Pearl Harbor, producing. . . this rousing historical action tale."--Booklist "A high-explosive what-if, with full-blooded characters."--John Birmingham, bestselling author of Without Warning About 1901:
". . .cleverly conceived. . .Conroy tells a solid what-if historical."--Publishers Weekly ". . . likely to please both military history and alternative history buffs."--Booklist
Baen, 9781451637618, 384pp.
Publication Date: December 6, 2011
About the Author
Robert Conroy is the author of the hugely-popular alternate history novels Red Inferno: 1945, 1945, 1942, 1901 and 1862. 1942, which is set within a Japanese conquest of Hawaii, won the prestigious Sidewise Award for alternate histories. Conroy has written for Military History magazine and has traveled extensively in Europe where he's taken a special interest in battlefields, historical collections and castles. After a first career in business, Conroy has turned his lifelong passion for writing and military history into an immensely satisfying new occupation. He is married, lives in southeastern Michigan, and, when not writing, teaches business and economic history at a local college.
or
Not Currently Available for Direct Purchase