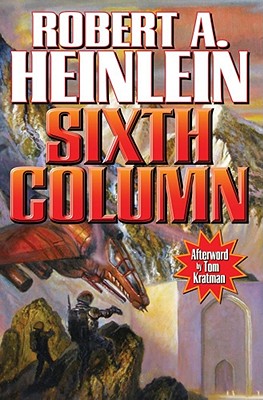 Sixth Column
Paperback

* Individual store prices may vary.
Other Editions of This Title:
Digital Audiobook (1/2/2012)
Compact Disc (1/20/2012)
MP3 CD (1/3/2012)
Compact Disc (1/3/2012)
Description
A perfect Heinlein near-future adventure from the First Golden Age of the legendary SF master and multiple New York Times best-seller with a new introduction and afterword by popular military SF writer Tom Kratman.. After the U.S. is conquered by totalitarians, an enclave of brilliant misfits leads a rebellion against near-impossible odds with humor, courage, grit--and ultimate success. It's six against six million in a brilliantly-waged near-future war for nothing less than liberty and justice for all. The totalitarian East has triumphed in a massive invasion and the United States has fallen to a dictatorial superpower bent on total domination. That power is consolidating its grip via concentration camps, police state tactics, and a total monopoly upon the very thoughts of the conquered populace. A tiny enclave of scientists and soldiers survives, unbeknownst to America's new rulers. It's six against six million--but those six happen to include a scientific genius, a master of subterfuge and disguise who learned his trade as a lawyer-turned-hobo, and a tough-minded commander who knows how to get the best out of his rag-tag assortment of American discontents, wily operators, and geniuses. It's going to take technological savvy and a propaganda campaign that would leave Madison Avenue aghast, but the U.S. will rise again. The counterinsurgency for freedom is on, and defeat is not an option. About Robert A. Heinlein:
"Not only America's premier writer of speculative fiction, but the great writer of such fiction in the world."--Stephen King. "One of the grand masters of science fiction."--Wall Street Journal
Baen, 9781451637700, 192pp.
Publication Date: January 3, 2012
About the Author
Robert A Heinlein is considered one of the "Big Three" of classic science fiction (along with Isaac Asimov and Arthur C. Clarke). Heinlein is a seven-time Hugo Award recipient and was given the first Grand Master Nebula Award for lifetime achievement. Heinlein's juveniles alone have influenced generations of scientists, engineers and creators the world over (for instance, it was once estimated that everyone in the Apollo 11 mission control room had read and loved at least one Heinlein novel). His worldwide bestsellers include Have Space Suit--Will Travel, Stranger in a Strange Land, Starship Troopers, Time Enough for Love, and The Moon Is a Harsh Mistress.
or
Not Currently Available for Direct Purchase