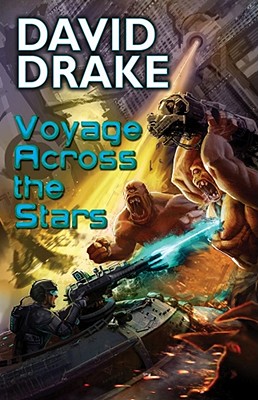 Voyage Across the Stars
Paperback

* Individual store prices may vary.
Other Editions of This Title:
MP3 CD (6/7/2016)
Description
Two incandescent novels of epic journey and battle across the stars--Cross the Stars and Voyage--set in David Drake's best-selling Hammer's Slammers universe together for the first time in one mega-volume. In Cross the Stars a retired mercenary captain takes a Ulysses-like star voyage home where he must fight to regain his lover and his heritage. In Voyage, a young man comes of age as a galactic warrior in an epic "Jason and the Argonauts"-like journey to recover a powerful alien artifact. Two incandescent novels of journey and battle across the stars set in David Drake's best-selling Hammer's Slammers universe together for the first time in one mega-volume. In Cross the Stars, Captain Don Slade has resigned from active duty with the Slammers and headed home for what he hopes will be peaceful retirement with his son and the woman he loves. But Slade's road to his homeworld lies through a jungle of planets in the wildest and toughest quadrant of the galaxy. Slade has going for him the loyalty of a contingent of Slammers who have sworn to see him home. Most of all, he still possesses the wits and wily tactical ability that made him a legend among the Slammers in the first place. He's going to need all of it, for even if he makes it through all dangers, he'll discover Tethys is not exactly ready to welcome him home with open arms. The journey home is an Odyssey of epic proportions and Don Slade is just the Ulysses to undertake it. In Voyage, Ned Slade has a heck of a name to live up to: that of his uncle Captain Don "Mad Dog" Slade of the legendary mercenary brigade, Hammer's Slammers. But Ned's life takes a turn to adventure when he crews for Lissea Doorman, a trade-ship captain who is sent by her conniving guild masters on what is supposed to be a suicide run. The crew of the good ship Swift is after an ancient alien artifact that could revolutionize star travel. The journey is long, and along the way Ned must first survive in a hard-knock universe full of forces--some very large and very-much armed-to-the-hilt--that would like nothing more than to blow him and the crew of the Swift to smithereens. And if he manages to pull through and, more importantly, if he manages to grow up and come of age as a man in the process, he may yet become the warrior and leader of warriors that is his inheritance. Jason and the Argonauts meets gritty science fiction adventure in what many argue is one of best-seller David Drake's greatest and most compelling works.
Baen, 9781451637717, 688pp.
Publication Date: January 3, 2012
About the Author
David Drake was attending Duke University Law School when he was drafted. He served the next two years in the Army, spending 1970 as an enlisted interrogator with the 11th armored Cavalry in Viet Nam and Cambodia. Upon return he completed his law degree at Duke and was for eight years Assistant Town Attorney for Chapel Hill, North Carolina. He has been a full-time freelance writer since 1981. His books include the genre-defining and bestselling Hammer's Slammers series, the RCN series including In the Stormy Red Sky, The Way to Glory, and many more.
or
Not Currently Available for Direct Purchase