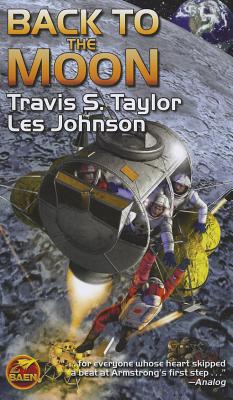 Back to the Moon (Mass Market)
Baen, 9781451637731, 400pp.
Publication Date: December 27, 2011
Other Editions of This Title:
Hardcover (12/7/2010)
* Individual store prices may vary.
Description
A crackling, realistic thriller of intrigue and courage overflowing with cool near-future ideas for a return to the glory days of lunar exploration from the "dream-team" of science fiction writer Travis S. Taylor (also a NASA and DOD consultant) and Les Johnson, Deputy Manager for the Advanced Concepts Office at the NASA—a man who definitely knows whereof he speaks.

The space race is back on. While NASA stages a fiftieth anniversary return to the Moon, a gritty private company puts together its own moonshot, complete with space tourists in tow. Across the globe, the Chinese are determined to arrive first this time. What's more, they'll do whatever it takes to win—including stealing every bit of American technology they can pilfer and hack. But just as politics and spectacle threaten to overshadow real accomplishment yet again, something goes horribly wrong on the lunar surface. Now the front-line troops, the astronauts themselves, must put aside the squabbles of others and take fate into their own hands. For it is time to prove that humans are not merely redundant cogs in a vast "lunar delivery process"–but that exploration and adventure in space is humanity's destiny.

About Travis S. Taylor
"[E]xplodes with inventive action.—Publishers Weekly on Travis S. Taylor's The Quantum Connection.

"[Warp Speed] reads like Doc Smith writing Robert Ludlum. . .You won't want to put it down"—John Ringo

About Les Johnson:
". . . .Solar Sails. . .convincingly captures the history of. . .solar sails. . .for aerospace students and keen enthusiasts alike."—Nature
About the Author
Dr. Travis S. Taylor has worked on various programs for the Department of Defense and NASA for the past twenty years. His expertise includes advanced propulsion concepts, very large space telescopes, space based beamed energy systems, future combat technologies, and next generation space launch concepts. Taylor is also the author of pulse-pounding, cutting edge science fiction novels such as the highly-popular One Day on Mars, Tau Ceti Agenda and his ground-breaking Warp Speed series and a regular on the History Channel's Life After People and The Universe series.

Les Johnson is a NASA physicist and author. By day, he serves as the Deputy Manager for the Advanced Concepts Office at the NASA George C. Marshall Space Flight Center in Huntsville, Alabama. In the early 2000s, he was NASA's Manager for Interstellar Propulsion Research and later managed the In-Space Propulsion Technology Project. He was technical consultant for the movie Lost in Space and has appeared on the Discovery Channel series, "Physics of the Impossible" in the "How to Build a Starship" episode. He has also appeared in three episodes of the Science Channel series Exodus Earth. In his spare time he writes popular science books and articles, including Solar Sails: A Novel Approach to Interplanetary Travel, Living Off the Land in Space: Green Roads to the Cosmos and Paradise Regained: The Regreening of Earth.
or
Not Currently Available for Direct Purchase