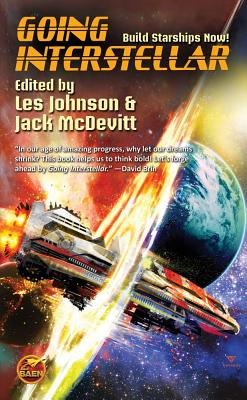 Going Interstellar (Mass Market)
Baen, 9781451637786, 448pp.
Publication Date: May 29, 2012
* Individual store prices may vary.
Description
A collection of tales by an all-star assortment of award winning authors including Ben Bova, Mike Resnick, Jack McDevitt, Michael Bishop, Sarah Hoyt and more together with essays on high technology by space scientists and engineers – all taking on new methods of star travel.

Some humans may be content staying in one place, but many of us are curious about what's beyond the next village, the next ocean, the next horizon. Are there others like us out there? How will we reach them? Others are concerned with the survival of the species. It may be that we have to get out of Dodge before the lights go out on Earth. How can we accomplish this? Wonderful questions. Now get ready for some answers.

Here is the science behind interstellar propulsion: reports from top tier scientists and engineers on starflight propulsion techniques that use only means and methods that we currently know are scientifically possible. Here are in-depth essays on antimatter containment, solar sails, and fusion propulsion. And the human consequences? Here is speculation by a magnificent array of award-winning SF writers on what an interstellar voyage might look like, might feel like—might be like. It's an all-star cast abounding with Hugo and Nebula award winners: Ben Bova, Mike Resnick, Jack McDevitt, Michael Bishop, Sarah Hoyt and more.

Comprehensive Teacher's Guide available.
About the Author
Jack McDevitt is a former English teacher, naval officer, Philadelphia taxi driver, customs officer, and motivational trainer. McDevitt is the winner of the Nebula award, the Philip K. Dick Special Award, and the UPC International Novella award. McDevitt lives in Georgia with his wife Maureen, where he plays chess, reads mysteries, and eats lunch regularly with his cronies.
Les Johnson is a NASA physicist, manager, author, husband and father. By day, he serves as the Deputy Manager for the Advanced Concepts Office at the NASA George C. Marshall Space Flight Center in Huntsville, Alabama. Johnson is also an on-screen consultant and commentator for National Geographic Channel special programming, including Evacuate Earth. He is the co-author with Travis S. Taylor of science fiction thriller Back to the Moon from Baen Books.
or
Not Currently Available for Direct Purchase