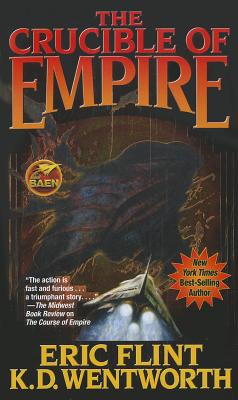 The Crucible of Empire (Mass Market)
Baen, 9781451638042, 624pp.
Publication Date: January 31, 2012
Other Editions of This Title:
Hardcover (3/2/2010)
MP3 CD (5/3/2016)
* Individual store prices may vary.
Description
The intricate and action-packed sequel to New York Times best-seller Eric Flint (with 3 million books in print ) and K.D. Wentworth's ground-breaking Course of Empire–with cool aliens.



The intricate and action-packed sequel to New York Times best-seller and master tale-spinner Eric Flint and K.D. Wentworth's ground-breaking Course of Empire.

Humanity is first subjugated by haughty alien colonizers calling themselves the Jao when Earth is unexpectedly attacked by the implacable and nearly-unstoppable Ekhat, exterminators of all intelligent life not their own. Now the fragile Human-Jao alliance is put to the test. A devastating encounter with the Ekhat in a distant nebula reveals a powerful alien society that may hold the key to defeating the Ekhat once and for all. There's one big problem: they utterly loathe humanity's ally, the Jao. And why shouldn't they? It was the Jao who drove them into hiding in the first place. Once again, everything depends on those innovators and idea-generators, the humans, to quell a brewing war and forge a tripartite alliance of very different species—or be blasted to empty cinders if they don't succeed.

About Course of Empire by Eric Flint & K.D. Wentworth
"Building to an exhilarating conclusion, this book cries out for a sequel." –Publishers Weekly

About Eric Flint's bestselling Ring of Fire series:
"…reads like a technothriller set in the age of the Medicis …"—Publishers Weekly

"…each new entry appears better than the previous one, a seemingly impossible feat…terrific."—Midwest Book Review

"[C]ombines accurate historical research with bold leaps of the imagination."—Library Journal
About the Author
Eric Flint is a modern master of alternate history fiction, with over three million books in print. He's the author/creator of the New York Times best-selling Ring of Fire series. With David Drake he has written six popular novels in the Belasarius alternate Roman history series, and with David Weber collaborated on 1633 and 1634: The Baltic War. Flint was for many years a labor union activist. He lives in Chicago, Illinois.

K. D. Wentworth is author of seven novels, including Black on Black and Stars over Stars for Baen, and more than fifty short stories, which appeared in such magazines as Fantasy & Science Fiction, Hitchcock's Mystery Magazine, Realms of Fantasy, and others. Wentworth is a winner in the Writers of the Future contest, and has been a Nebula Award finalist twice. She lives with her husband in Tulsa, Oklahoma.