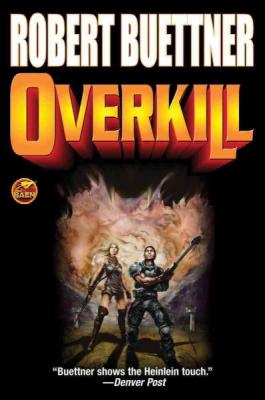 Overkill (Mass Market Paperbound)
Baen Books, 9781451638097, 417pp.
Publication Date: February 28, 2012
Other Editions of This Title:
Paperback (3/1/2011)
MP3 CD (5/17/2016)
* Individual store prices may vary.
Description
Book one in an exciting new science fiction adventrure series: Orphan's Legacy. Best selling author delivers a saga of spy games and military action on an interplanetary scale when ace intelligence operative Lt. Jazen Parker returns to the outlaw world of his birth seeking his own mysterious origins. At twenty-three, Jazen Parker has completed his Legion hitch a hero. But in four months, he'll have a price on his head. Worse, he's lost his past, and he can't find his future. Unfortunately for Jazen, he's chosen to search for them on one of the deadliest planets known to mankind. When Jazen reluctantly hires on to a Trueborn Earthman tycoon's safari to bag a deadly trophy, the reluctant mercenary finds himself consigned to an outpost at the end of the universe known to everyone except its tourism bureau as Dead End. When the hunt goes terribly wrong, Jazen must survive a tough, beautiful local guide who hates mercenaries, an eleven ton beast that can crush main battle tanks with one claw tied behind its back, and the return of a nightmare that has haunted Jazen since birth. About Overkill
" Jazen] Parker develops into. . .not just a mercenary, but a young man forced into a life he never would have chosen, now faced with choices that will affect humanity. . .Overkill is a solid, surprising science fiction novel." -Guilded Earlobe Review About Robert Buettner:
"Buettner goes well beyond . . . military science fiction . . . he understands . . . living as a soldier -- the boredom punctuated by terror, the constant anxiety and self-doubt, the random chaos that battle always is, and the emotional glue that holds together people who may have nothing in common except absolute responsibility for one another's lives." --Joe Haldeman, Hugo and Nebula Award-winning author " O]nce in a while . . . a contemporary author penetrates to the heart of Heinlein's vision . . . to replicate the master's effects. . . . O]ne such book is] Robert Buettner's Orphanage." -The Washington Post "Buettner shows the Heinlein touch." -Denver Post
About the Author
Robert Buettner served as an Army intelligence office. After his discharge, he continued as an Army reservist and became a geologist and then a lawyer specializing in natural resources. Buettner has the licks of a modern-day Robert A. Heinlein when it came to science fiction storytelling. He currently lives near Atlanta, Georgia.
or
Not Currently Available for Direct Purchase