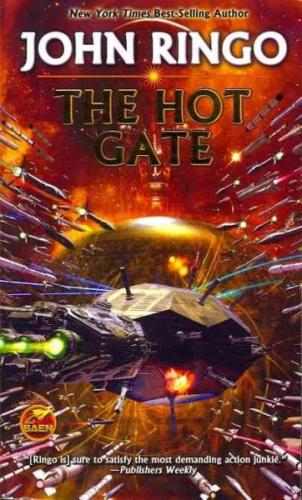 The Hot Gate
Mass Market

* Individual store prices may vary.
Other Editions of This Title:
Compact Disc (4/24/2012)
MP3 CD (4/24/2012)
MP3 CD (6/30/2015)
MP3 CD (4/24/2012)
Description
New York Times best seller in hardcover. Armed forces veteran and seven-time New York Times best-selling author John Ringo delivers the third entry in his blockbuster Troy Rising SF series. Humanity fights back against a devastating Trojan-horse-like alien invasion of Earth and takes the fight to the stars by creating a vast battlestation as large as a planet.

The third entry in the best-selling Troy Rising saga and follow-up to blockbuster Citadel from multiple New York Times and USA Today bestseller and military SF master, John Ringo.

When the orbital gates first materialized in the outer Solar System, all seemed well, but a devastating invasion ensued. Now humans have battled back from the conquest by a tyrannical alien species to become a force to reckon with in the galaxy. On a crash-building course, humanity has created a near-impregnable battlestation of Deathstar proportions to prove it. But the enemy is remorseless and to survive humans must take the fight to the heart of their empire and prevail–a feat no previous species has ever accomplished. Instead, the bones and burnt hulks of those who have tried litter the star-ways. But these galactic imperialists have never contended with humans, a foe who is their match in sheer ferocity and desire to win.

About the Troy Rising series:
"[I]nfused with plenty of old-fashioned two-fisted can-do attitude . . ." –Publishers Weekly

"[I]rresistible action-sf . . .[filled with] Ringo's amazingly fertile imagination." –Booklist

About John Ringo:
"[O]ne of the best…practitioners. . .of military SF." –Publishers Weekly

"[F]ast-paced military SF peopled with three-dimensional characters and spiced with personal drama as well as tactical finesse" –Library Journal

"[Ringo's work] "attains a terrible beauty not unlike that of the Norse Eddas…" –Publishers Weekly

"If Tom Clancy were writing SF, it would read much like John Ringo." –Philadelphia Weekly Press

Baen, 9781451638189, 560pp.
Publication Date: April 24, 2012
About the Author
John Ringo brings fighting to life. He is the creator of the Posleen Wars series, which has become a New York Times best-selling series with over one million copies in print. The series contains A Hymn Before Battle, Gust Front, When the Devil Dances, Hell's Faire, andEye of the Storm. In addition, Ringo has penned the Council War series. Adding another dimension to his skills, Ringo created nationally best-selling techno-thriller novels about Mike Harmon (Ghost, Kildar, Choosers of the Slain, Unto the Breach, A Deeper Blue, and, with Ryan Sear, Tiger by the Tail). His techno-thriller The Last Centurion was also a national bestseller. A more playful twist on the future is found in novels of the Looking-Glass series: Into the Looking Glass, Vorpal Blade, Manxome Foe, and Claws That Catch, the last three in collaboration with Travis S. Taylor. His audience was further enhanced with four collaborations with fellow New York Times best-selling author David Weber: March Upcountry, March to the Sea, March to the Stars and We Few. There are an additional seven collaborations from the Posleen series: The Hero, written with Michael Z. Williamson, Watch on the Rhine, Yellow Eyes and The Tuloriad, all written with Tom Kratman, and the New York Times best seller Cally's War and its sequels Sister Time and Honor of the Clan, all with Julie Cochrane. His science-based zombie apocalypse Black Tide Rising series includes Under a Graveyard Sky, To Sail a Darkling Sea, Islands of Rage and Hope and Strands of Sorrow. A veteran of the 82nd Airborne, Ringo brings first-hand knowledge of military operations to his fiction.