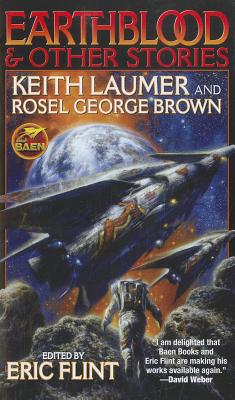 Earthblood & Other Stories (Mass Market)
Baen, 9781451638202, 720pp.
Publication Date: January 31, 2012
* Individual store prices may vary.
Description
An epic novel of humanity pushed to the brink of existence–and fighting back with a dash of grit and a sense of humor by Bolo and Retief series creator Keith Laumer and Rosel George Brown. Also includes the complete Laumer and Brown Niss universe stories full of hard-hitting action and wry humor.

A novel of breathtaking space adventure: Earthblood by SF legend and Bolo and Retief saga creator Keith Laumer writing with award-winning SF luminary Rosel George Brown. Humanity has been defeated by the rapacious Niss millennia ago and lies scattered across the galaxy. Young Roan, raised by aliens, is determined to reclaim his heritage and rediscover the legendary, lost human homeworld. But between Roan and home is a dangerous Niss fleet. Also included are more tales by Laumer and by Brown, masters of humorous SF adventure with a sharp and often satirical point.

About Keith Laumer:
"About to read Laumer? You're about to have fun!" –legendary military SF Hammer's Slammers series creator, David Drake

"[Laumer creates] adventure tales that are brisk, light and sardonic . . ." –Publishers Weekly

"Laumer is a master ..." –Seattle Times
About the Author
SF legend Keith Laumer was a captain in the U.S. Air Force and later an officer in the Diplomatic Corps, serving all over the world–service which provided Laumer with a solid background both for his fast-moving adventure stories including his Bolo saga which introduced supremely powerful (and highly ethical) futuristic battle tanks and his satirical comedies featuring crafty intergalactic diplomat, Retief.

Rosel George Brown attracted attention during her unfortunately brief writing career with an impressive selection of stories in leading science fiction magazines which combined science fiction and irresistible humor, ranging from the dryly witty to raucous slapstick. Brown was nominated for a Hugo Award in 1959, and her first novel, Sibyl Sue Blue, included here, was widely and favorably reviewed. Brown died of cancer in 1967 at the age of 41.
or
Not Currently Available for Direct Purchase