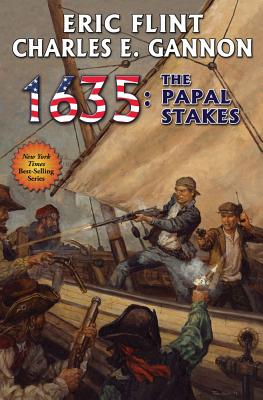 1635 (Hardcover)
The Papal Stakes (Ring of Fire)
Baen, 9781451638394, 654pp.
Publication Date: October 2, 2012
Other Editions of This Title:
Mass Market (8/27/2013)
* Individual store prices may vary.
Description
A new addition to the multiple New York Times best-selling Ring of Fire series. After carving a place for itself in war-torn 17th century Europe, citizens of the modern town of Grantville, West Virginia take on the Borgias and Papal succession shenanigans that could undermine a Spring of freedom that has come to Europe three centuries early. #15 in the multiple bestselling Ring of Fire Series. It's springtime in the Eternal City, 1635. But it's no Roman holiday for uptimer Frank Stone and his pregnant downtime wife, Giovanna. They're in the clutches of would-be Pope Cardinal Borgia, with the real Pope-Urban VII -on the run with the renegade embassy of uptime Ambassador Sharon Nichols and her swashbuckling downtime husband, Ruy Sanchez de Casador y Ortiz. Up to their necks in papal assassins, power politics, murder, and mayhem, the uptimers and their spouses need help and they need it quickly. Special rescue teams-including Harry Lefferts and his infamous Wrecking Crew-converge on Rome to extract Frank and Gia. And an uptime airplane is on its way to spirit the Pope to safety before Borja's assassins can find him. It seems that everything is going to work out just fine in sunny Italy. Until, that is, everything goes wrong. Now, whether they are prisoners in Rome or renegades protecting a pope on the run, it's up to the rough and ready can-do attitude of Grantville natives to once again escape the clutches of aristocratic skullduggery and ring in freedom for a war-torn land. About Eric Flint's Ring of Fire series: "This alternate history series is...a landmark..."--Booklist " Eric] Flint's 1632 universe seems to be inspiring a whole new crop of gifted alternate historians."--Booklist ..".reads like a technothriller set in the age of the Medicis..."--Publishers Weekly ..".each new entry appears better than the previous one, a seemingly impossible feat...terrific."--Midwest Book Review " C]ombines accurate historical research with bold leaps of the imagination."--Library Journal
About the Author
Eric Flint is a modern master of alternate history fiction, with over three million books in print. He's the author/creator of the New York Times best-selling Ring of Fire series. With David Drake he has written six popular novels in the "Belisarius" alternate Roman history series, including, and with David Weber collaborated on 1633 and 1634 The Baltic War. Flint was for many years a labor union activist. He lives in Chicago, Illinois. Charles E. Gannon is a breakthrough rising star in science fiction with a multiple short story and novella publications in Baen anthologies, Man-Kzin Wars XIII, Analog, and elsewhere. Gannon is coauthor with Steve White of Extremis, the latest entry in the legendary Starfire series created by David Weber. His most recent novel is 1635: The Papal Stakes cowritten with alternate history master, Eric Flint. A multiple Fulbright scholar, Gannon is Distinguished Professor of American Literature at St. Bonaventure University.
or
Not Currently Available for Direct Purchase