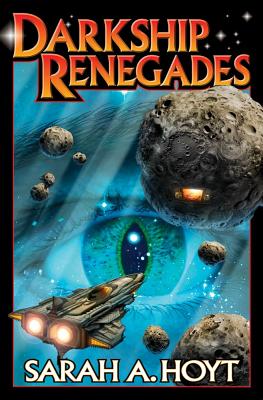 Darkship Renegades (Paperback)
Baen, 9781451638523, 390pp.
Publication Date: December 4, 2012
Other Editions of This Title:
Mass Market (10/29/2013)
MP3 CD (5/17/2016)
* Individual store prices may vary.
Description
Entry number two in Sarah A. Hoyt's rollicking and award-winning space adventure, the Darkship series. Echoes of Heinlein and nonstop action as a cloned heroine must raid a hostile Earth and steal the secret to energy production among the space-based Powertrees that all humanity depends on. Darkship Renegades, by Sarah Hoyt, has been nominated for the Prometheus Award for Best Novel. Entry number two in Sarah A. Hoyt's rollicking and popular Darkship series, sequel to Darkship Thieves, and winner of the Prometheus Award. After rescuing her star pilot husband and discovering the dark secret of her own past on Earth, Athena Hera Sinistra returns to space habitat Eden to start life anew. Not happening. No good deed goes unpunished, and Thena and Kit are placed under arrest for the crime of coming back alive. The only escape from a death sentence: return to Earth and bring back the lost method for creating the Powertrees, the energy source of both Eden and Earth whose technological origins have been lost to war. But that mission is secondary to a greater imperative. Above all else, Thena must notget caught. If she does, then suicide is to be the only option. With the odds heavily stacked against not only success, but survival, Thena comes to understand what her cynical accusers do not: it is not merely one woman's life on the line anymore. For it's on Earth where the adventure truly begins. Thena realizes that what is truly at stake is the fate of Eden and Earth alike, the continuance of the darkship fleet-and freedom for all in the Solar system-and beyond. Darkship Renegades has been nominated for the Prometheus Award for Best Novel. About series opener, Darkship Thieves: " F]anciful and charming." -Library Journal "Exceptional, wonderful and enormously entertaining." -Booklist " A] tour de force: logical, built from assumptions with no contradictions. . .gripping."-Jerry Pournelle " Three Musketeers creator] Alexander Dumas would give Sarah A. Hoyt] a thumbs up."-Steve Forbes.
About the Author
Sarah A. Hoyt, under various names, is the author of over 30 books--she gets tangled up when she tries to count them and always misses a couple--in science fiction, fantasy, mystery, romance, and historical fiction. Her first published novel, Ill Met by Moonlight, was a finalist for the Mythopoeic Award. Darkship Thieves, the first novel of her popular Darkship Thieves series is a Prometheus Award Winner. She's published over 100 short stories in magazines such as Analog, Asimov's and Weird Tales, (and others, some no longer in existence) as well as an array of science fiction, fantasy and mystery anthologies. Sarah was born and raised in Portugal and now lives in Colorado, near her two grown sons, with her husband and a varying clowder of cats. English is her third language, but she can swear fluently in seven. When not laying down words on the latest manuscript, she can be found refinishing furniture, walking, or studying history.
or
Not Currently Available for Direct Purchase