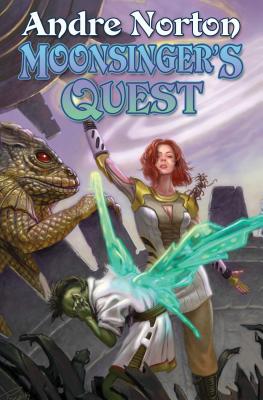 Moonsinger's Quest
Mass Market

* Individual store prices may vary.
Other Editions of This Title:
Paperback (11/1/2011)
Description
Two outstanding and moving novels, Flight to Yiktor and Dare to Go A-Hunting, concluding legendary, best-selling storyteller Andre Norton's epic Moonsinger series in one volume. In a far future galaxy, a mistreated, misshapen young orphan discovers his origins as one of the last of the Faery Folk, and uses his psychic abilities and courage to win back his heritage over great odds and in spite of nefarious villains seeking to use his powers for evil ends.

Two outstanding and moving novels concluding Andre Norton's legendary Moonsinger series together in one volume. In Flight to Yiktor, Farree is a hunchback orphan in the slum of a tough, lawless world on the edge of the known galaxy. His only friend? A war-beast rescued from starvation and the fighting pits with whom he has a telepathic connection.

In Dare to Go A-Hunting, Farree has discovered a portion of his true heritage as one of the ancient Little People, the Faery Folk, of legend—but so far as he knows, he is the only one of his kind to survive. Then his compatriots, star-traveler Krip Vorlund and psychic sorceress Lady Maelen, run across wings for sale in the market on a distant frontier outpost world—wings that have obviously been cut from the backs of creatures similar to Farree. The origin of the wings points to location of Farree's birthplace. But others have an acute interesting in locating that place, as well. And those others do not mean the inhabitants well. Now Farree must find and defend a family and people he does not remember, but who hold the key to his own strange destiny.

This volume, #2 in the series, completes Andre Norton's legendary Moonsinger saga.

About Moonsinger's Quest:

"Norton . . . takes these mythical people to the edge of extinction in the far future, where she allows her engaging hero to find his destiny."—Publishers Weekly

About Andre Norton:

"The Grand Dame of Science Fiction …"—Time

"One of the all-time masters."—Peter Straub

"Andre Norton is a superb storyteller whose skill draws the reader completely into a fantastic other world …"—Chicago Tribune

"Norton's renowned story-telling magic is present in abundance . . ."—Future Retrospective
Baen, 9781451638554, 560pp.
Publication Date: November 27, 2012
About the Author
The author of the celebrated Witch World series, Andre Norton has been called "one of the most popular authors of our time" by Publishers Weekly. She is a seminal influence on many of today's top writers including David Weber, Eric Flint, and Peter Straub. Norton received the Grand Master award from the Science Fiction Writers of America and the Lifetime Achievement Award of the World Fantasy Convention. She was astoundingly prolific, with over thirty books in the celebrated Witch World series alone, and introduced three generations of readers to a wide range of science fiction and fantasy classics over a long and lauded career.
or
Not Currently Available for Direct Purchase