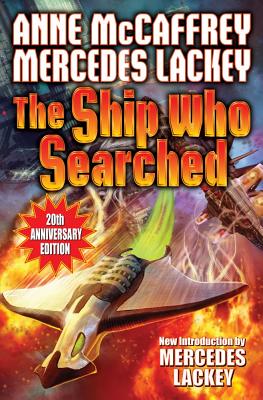 Ship Who Searched
Paperback

* Individual store prices may vary.
Description
Special 20th Anniversary Edition, with a new introduction by Mercedes Lackey. A beloved classic of romantic space adventure returns. A novel of Anne McCaffrey's Brainship series. A young woman becomes paralyzed and must become a brainship—and find her Brawn, her human soul mate, so that she can discover a cure for her illness.

Tia Cade is a headstrong, smart, and very normal girl—until she contracts a terrible illness that leaves her with the bare semblance of life. Tia's only hope: to become the oldest person ever to train to be one of the legendary star travelers, the brainships But now that Tia is free of her ravaged body, there still remains the task of finding the right partner to be her Brawn, the human element every brainship requires. And when the disease that debilitated Tia threatens thousands more, selecting a Brawn who is her true soul mate may allow Tia to find the origin of the terrible plague—and perhaps even a cure.

20th Anniversary edition featuring a new introduction by Mercedes Lackey.

About Anne McCaffrey:

"McCaffrey's [creates] a vivid future universe of diversified cultures and technological wonders [with] vivid heroes and villains. . ."—Publishers Weekly on the Brainship series

About Mercedes Lackey:

"With [Mercedes Lackey], suspense never lags. . ."–Kliatt

"She'll keep you up long past your bedtime."—Stephen King
Baen, 9781451638738, 272pp.
Publication Date: February 5, 2013
About the Author
Anne Inez McCaffrey (1926–2011) was an American-born Irish writer, best known for the Dragonriders of Pern science fiction series. Early in McCaffrey's forty-six-year career as a writer, she became the first woman to win a Hugo Award for fiction and the first to win a Nebula Award. Her 1978 novel The White Dragon became one of the first science fiction books to appear on the New York Times bestseller list. In 1999, she was the recipient of the Margaret A. Edwards Award, honoring her lifetime contribution to writing for teens. In 2005 the Science Fiction and Fantasy Writers of America named McCaffrey its twenty-second Grand Master, an annual award to living writers of fantasy and science fiction. She was inducted into the Science Fiction Hall of Fame in 2006.