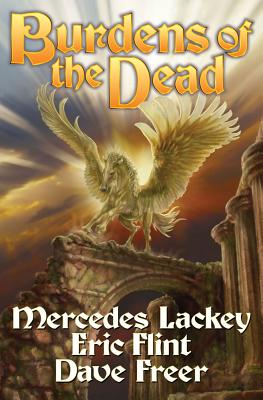 Burdens of the Dead (Hardcover)
Baen, 9781451638745, 448pp.
Publication Date: June 4, 2013
* Individual store prices may vary.
or
Not Currently Available for Direct Purchase
Description
Sequel to Much Fall of Blood, book 4 in the Heirs of Alexandria series. Civilization at the crossroads. In an alternate Renaissance where magic works, a captain of Italian forces must deal with gods, goddesses and warfare in order to save his daughter at the siege of Constantinople--and prevent a new dark age. In an alternate 15th century where magic still is part of life, the Holy Roman Empire rules Europe. Constantinople is under siege by the Venetians and their allies. Hekate, Goddess of Crossroads, presides over the conflict and carnage as alternate visions of civilization collide. And since Constantinople is the crossroad city of east and west, and it is here that Italian captain Benito Valdosta must deal with the powerful magical manifestation of the Weeping Woman, a disguised Hekate, in order to save his daughter and to destroy the fleets of the Chernobog assembling in the Black Sea before they can cut into the soft underbelly of Europe. With land battle, naval action, cunning assassinations, and heartbreak aplenty--not to mention the ongoing conflict between Lord of the Dead Aidonus and Benito for the love of a woman, civilization is at the crossroads and choices must be made that will bring victory and freedom for centuries to come--or a new Dark Age. About the Heirs of Alexander series:
"In this world, broken off from ours in A.D. 349. . . Christian magic battles blackest sorcery. . . making for hours of old-fashioned reading fun . . . Lackey, Flint and Freer are] mixmasters of nearly every heard-of myth." Publishers Weekly " V]ast and absorbing. . .it is almost impossible to put it down while the tension remains high. . .Lackey and associates' areas of expertise, including naval history and classical mythology, are smoothly blended."--Booklist
About the Author
Mercedes Lackey is the New York Times best-selling author of the Bardic Voices series and the Serrated Edge series (both Baen), the Heralds of Valdemar series, and many more. Among her popular Baen titles are The Fire Rose, The Lark and the Wren, and The Shadow of the Lion (with Eric Flint and Dave Freer). She lives in Oklahoma. Eric Flint is a modern master of alternate history fiction, with over three million books in print. He's the author/creator of the New York Times best-selling Ring of Fire series. With David Drake he has written six popular novels in the "Belisarius" alternate Roman history series, and with David Weber collaborated on 1633 and 1634 The Baltic War. Flint was for many years a labor union activist. He lives in Chicago, Illinois. Dave Freer is an ichthyologist turned author who lives on Flinders Island (between mainland Australia and Tasmania) with his wife, four dogs and four cats, and two sons. He has coauthored a range of novels with Eric Flint (Rats, Bats and Vats, The Rats, the Bats and the Ugly, Pyramid Scheme, and Pyramid Power), with Mercedes Lackey and Eric Flint (The Shadow of the Lion, This Rough Magic, The Wizard of Karres, Much Fall of Blood and Freer's solo entry in the series, A Mankind Witch) as well as writing the Dragon's Ring novels Dragon's Ring and Dog and Dragon.
Advertisement