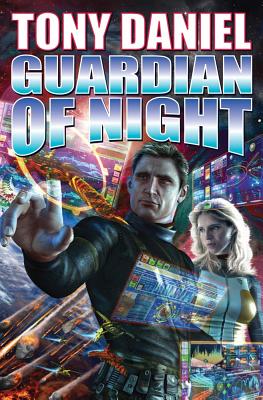 Guardian of Night
Mass Market Paperbound

* Individual store prices may vary.
Other Editions of This Title:
Paperback (2/7/2012)
MP3 CD (5/17/2016)
Description
The Hunt for Red October in space, complete with a fascinating alien "Sean Connery" ship commander, heroic human space-naval officers, and a rousing blast-off of a final battle on the edge of the Solar System. For alien commander Arid Ricimer there was no going home. His species was winning the war with Earth, but the civilization he had fought for was gone, destroyed from within by ideologues and bureaucrats. So he does the only thing that makes sense to a person of integrity--he attempts to defect to Earth with his officers and an entire spaceship, a vessel that mounts a superweapon of almost unimaginable power. Hot on his heels is his former fleet, a force that has already devastated Earth once, and is poised to wipe humanity from existence forever, ready to do almost anything to deny Earth a chance. To the defenders of Earth he is an enigma--and potentially a Trojan horse. Yet after years of battling back from the brink of destruction, the U.S. space navy has the war-tested heroes to rise to the challenge Ricimer represents--and the danger that follows him--if only those in charge will listen. The players are in motion and the greatest confrontation this sector of the galaxy has ever witnessed is at hand. Now all depends on the courage of an honorable alien warrior and the intelligence and daring of his human allies.

About Guardian of Night
" A] large cast of utterly graspable humans, mostly military and political folks, of all ranks and capacities and temperments. Daniel has a keen eye for the kinds of in extremis thinking and behavior that such a wartime situation would engender, acts of desperation, resignation, wild courage, and irrational hope. He paints neither pure villains nor pure heroes, but conflicted individuals each striving to do the best that their own inner light reveals. . .Following in the footsteps of Poul Anderson and Greg Bear, Tony Daniel makes a triumphant return."--Asimov's Science Fiction Magazine ." . .an unparalleled success and could easily become a classic in military science fiction. . .Daniel creates. . .believable aliens as well as humans who are all striving for the same goal: capture the Guardian of Night. I was surprised and delighted by the depth of characterization in this book and recommend it to you heartily."--Galaxy's Edge About Tony Daniel:

" D]azzling stuff."-New York Times Book Review "Remember his name, and keep watching for whatever he does."-Roger Zelazny "Daniel proves that the Golden Age of science fiction is right here and now."-Greg Bear About Metaplanetary, by Tony Daniel " A] panoramic tale of men and women engaged in a war that spans both virtual and normal realities and that calls into question the nature of human intelligence and the price of freedom."-Library Journal The best science fiction novel I've read in five years."-Lucius Shepard About Superluminal, by Tony Daniel

"Daniel renders his 31st-century battles and human dilemmas utterly fascinating."-Washington Post Book World " T]eems with vivid characters and surprising action." -Publishers Weekly (starred review) " B]rilliantly realized. . . the story remains gripping throughout."-Booklist

"A fascinating future world which encompasses some of the best science fiction has to offer, along the lines of 'Doc' Smith, Greg Bear, and Bruce Sterling. . ."-Starlog
Baen Books, 9781451638790, 474pp.
Publication Date: February 26, 2013
About the Author
Tony Daniel is the author of five science fiction books, the latest of which is Guardian of Night, as well as an award-winning short story collection, The Robot's Twilight Companion. He is Hugo finalist for his story "Life on the Moon," which also won the Asimov's Reader's Choice Award. Daniel's short fiction has been much anthologized and has been collected in multiple year's best compilations. Daniel has also cowritten screenplays for SyFy Channel horror movies, and during the early 2000s was the writer and director of numerous audio dramas for critically-acclaimed SCIFI.COM's Seeing Ear Theatre. Born in Alabama, Daniel has lived in St. Louis, Los Angeles, Seattle, Prague, and New York City. He now lives in North Carolina with his wife and two children.