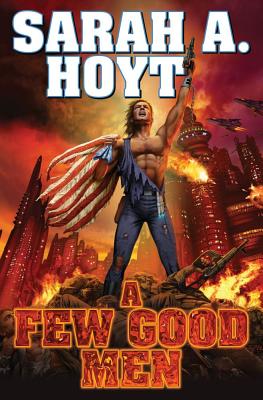 A Few Good Men (Paperback)
Baen, 9781451638882, 372pp.
Publication Date: March 5, 2013
* Individual store prices may vary.
Description
Original trade paperback, sequel to Darkship Renegades and Darkship Thieves. The son of a ruler on Earth instigates civil war and revolution when he attempts to take the place of his assassinated father and uncovers a terrible secret that has been used to enslave humanity. The Son Also Rises... On a near future Earth, Good Man does not mean good at all. Instead, the term signifies a member of the ruling class, and what it takes to become a good man and to hold onto power is downright evil. Now a conspiracy hundreds of years in the making is about to be brought to light when the imprisoned son of the Good Man of Olympic Seacity escapes from his solitary confinement cell and returns to find his father assassinated. But when Luce Keeva attempts to take hold of the reins of power, he finds that not all is as it seems, that a plot for his own imminent murder is afoot--and that a worldwide conflagration looms. It is a war of revolution, and a shadowy group known as the Sons of Liberty may prove to be Luce's only ally in a fight to throw off an evil from the past that has enslaved humanity for generations. Sequel to Sarah A. Hoyt's award-winning Darkship Thieves, and Darkship Renegades. About A Few Good Men
"Hoyt creates a fast-paced and entertaining tale about a revolution and its reluctant leader."--Galveston County Daily News About the Darkship series:
"First-rate space opera with a moral lesson. You won't be disappointed."--Glenn Reynolds, Instapundit.com " A] tour de force: logical, built from assumptions with no contradictions . . . gripping."-Jerry Pournelle " Three Musketeers creator] Alexander Dumas would give Sarah A. Hoyt] a thumbs up."-Steve Forbes " F]anciful and charming." -Library Journal "Exceptional, wonderful and enormously entertaining." -Booklist
About the Author
Sarah A. Hoyt, under various names, is the author of over 30 books--she gets tangled up when she tries to count them and always misses a couple--in science fiction, fantasy, mystery, romance, and historical fiction. Her first published novel, Ill Met by Moonlight, was a finalist for the Mythopoeic Award. Darkship Thieves, the first novel of her popular Darkship Thieves series is a Prometheus Award Winner. She's published over 100 short stories in magazines such as Analog, Asimov's and Weird Tales, (and others, some no longer in existence) as well as an array of science fiction, fantasy and mystery anthologies. Sarah was born and raised in Portugal and now lives in Colorado, near her two grown sons, with her husband and a varying clowder of cats. English is her third language, but she can swear fluently in seven. When not laying down words on the latest manuscript, she can be found refinishing furniture, walking, or studying history.
or
Not Currently Available for Direct Purchase