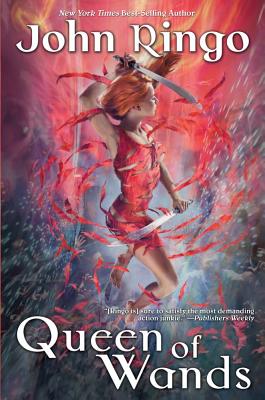 Queen of Wands
Mass Market

* Individual store prices may vary.
Other Editions of This Title:
Hardcover (8/7/2012)
MP3 CD (5/10/2016)
Hardcover (8/7/2012)
Description
Armed forces veteran and eight-time New York Times bestselling author John Ringo delivers the sequel to contemporary urban fantasy thriller Princess of Wands. Demonic, possessed Stepford wives versus a soccer mom demon slayer – plus, a zombie fight at an SF convention.

Soccer mom and demon fighter Barbara Everette has a problem. It seems Janea, Barbara's assistant and The Foundation for Love and Universal Faith's best operative, has been thrown into a coma by some very nasty magic she's stirred up. Barbara must track down the perpetrators and break the spell or Janea's soul will be forever lost on the astral plane. Oh, and if she can't break the spell, zombies will destroy all mankind.

Meanwhile, Janea, a stripper and High Priestess of Freya when she isn't fighting demons, must contend with a spiritual journey of her own. It's a journey into Janea's acceptance of herself in all her dimensions (and what dimensions they are!). Where to locate one's true inner essence? At a science fiction convention, of course. But when rescuers pursue Janea into her vision of a geeky alternate reality, we find this is one science fiction convention where the Guest of Honor could turn out to be Death Himself.

Finally, the Christian soccer mom and the Norse priestess stripper face their greatest challenge ever when an ancient Old One rears Her ugly face, and the Mother of Darkness walks among us. Since this is one Mother who is quite immune to any conventional power, including nuclear weapons, it seems humanity's only hope is God. The question being: Is God willing to save humanity?


About John Ringo:
"[Ringo's work is] peopled with three-dimensional characters and spiced with personal drama as well as tactical finesse." —Library Journal

". . . explosive. . . . fans. . .will appreciate Ringo's lively narrative and flavorful characters." —Publishers Weekly

". . .practically impossible not to read in one sitting . . . exceedingly impressive . . . executed with skill, verve, and wit." —Booklist

"Crackerjack storytelling." —Starlog
Baen, 9781451639179, 496pp.
Publication Date: July 30, 2013
About the Author
John Ringo brings fighting to life. He is the creator of the Posleen Wars series, which has become a New York Times best-selling series with over one million copies in print. The series contains A Hymn Before Battle, Gust Front, When the Devil Dances, Hell's Faire, andEye of the Storm. In addition, Ringo has penned the Council War series. Adding another dimension to his skills, Ringo created nationally best-selling techno-thriller novels about Mike Harmon (Ghost, Kildar, Choosers of the Slain, Unto the Breach, A Deeper Blue, and, with Ryan Sear, Tiger by the Tail). His techno-thriller The Last Centurion was also a national bestseller. A more playful twist on the future is found in novels of the Looking-Glass series: Into the Looking Glass, Vorpal Blade, Manxome Foe, and Claws That Catch, the last three in collaboration with Travis S. Taylor. His audience was further enhanced with four collaborations with fellow New York Times best-selling author David Weber: March Upcountry, March to the Sea, March to the Stars and We Few. There are an additional seven collaborations from the Posleen series: The Hero, written with Michael Z. Williamson, Watch on the Rhine, Yellow Eyes and The Tuloriad, all written with Tom Kratman, and the New York Times best seller Cally's War and its sequels Sister Time and Honor of the Clan, all with Julie Cochrane. His science-based zombie apocalypse Black Tide Rising series includes Under a Graveyard Sky, To Sail a Darkling Sea, Islands of Rage and Hope and Strands of Sorrow. A veteran of the 82nd Airborne, Ringo brings first-hand knowledge of military operations to his fiction.
or
Not Currently Available for Direct Purchase