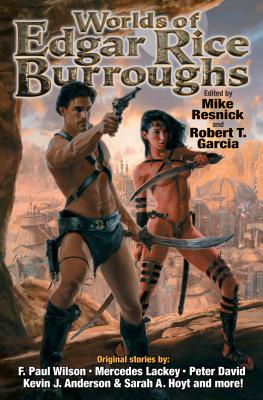 Worlds of Edgar Rice Burroughs
Paperback

* Individual store prices may vary.
Other Editions of This Title:
Mass Market Paperbound (12/30/2014)
Description
Original theme anthology. Eleven new tales set in the legendary worlds of Edgar Rice Burroughs. Contains stories by top writers such as Mercedes Lackey, Sarah Hoyt, and Mike Resnick. Eleven new tales set in the legendary worlds of Edgar Rice Burroughs. Most people don't know it, but the best-selling American writer of the 1920s wasn't Hemingway or Fitzgerald, but Edgar Rice Burroughs. Everyone knows that he created Tarzan, but he wasn't limited to that one classic creation. There was John Carter, Warlord of Mars. There was Pellucidar, the wondrous world that exists at the center of the Earth, and Carson of Venus, the Wrong-Way Corrigan of space, who set off for Mars and wound up on Venus for four novels and part of a fifth. Many top science fiction and fantasy writers of today grew up reading Burroughs, and this anthology is their way of "paying back" and thanking him for stirring their imaginations. Join their celebration with these all new tales set in the astounding worlds that Edgar Rice Burroughs brought to life: giving their own spin on the unforgettable characters conceived by one of the great masters of science fiction, adventure, and fantasy. About The Worlds of Edgar Rice Burroughs
"More fun than I've had in an anthology in a long time."--Critical Mass " A]ltogether a fitting and enjoyable tribute to the worlds of Edgar Rice Burroughs."--SF Crowsnest
Baen, 9781451639353, 356pp.
Publication Date: October 1, 2013
About the Author
Mike Resnick is, according to Locus, the all-time leading awardwinner, living or dead, for short fiction. He has won five Hugos from a record 36 nominatiuons, plus other major awards in the USA, France, Japan, Poland, Croatia, and Spain. He is the author of 69 novels, more than 250 short stories, and three screenplays, and has edited forty-one anthologies. His Kirinyaga, with 77 major and minor awards and nominations, is the most honored book in science fiction. He was Guest of Honor at the 2012 World Science Fiction Convention, and lives in Cincinnati with his wife Carol. Robert T. Garcia worked at Cinefantastique magazine, Mayfair Games and First Comics (as Senior Editor) before founding Garcia Publishing Services with his wife Nancy back in the 1980s. They won the World Fantasy Award in 1983 for American Fantasy(TM) magazine which spun off into American Fantasy Press which recently published Mike Resnick's short story collection Stalking the Zombie. Bob has edited the anthologies Temporary Walls (with Greg Ketter), Chilled to the Bone, Unrepentant: A Celebration of the Writings of Harlan Ellison, and edited/packaged the first US edition of Vargo Statten's 1954 novelization of Creature From the Black Lagoon(TM).
or
Not Currently Available for Direct Purchase